5 Great Neighborhoods in Cincinnati
Explore some of the Ohio city's top neighborhoods, from downtown to the suburbs.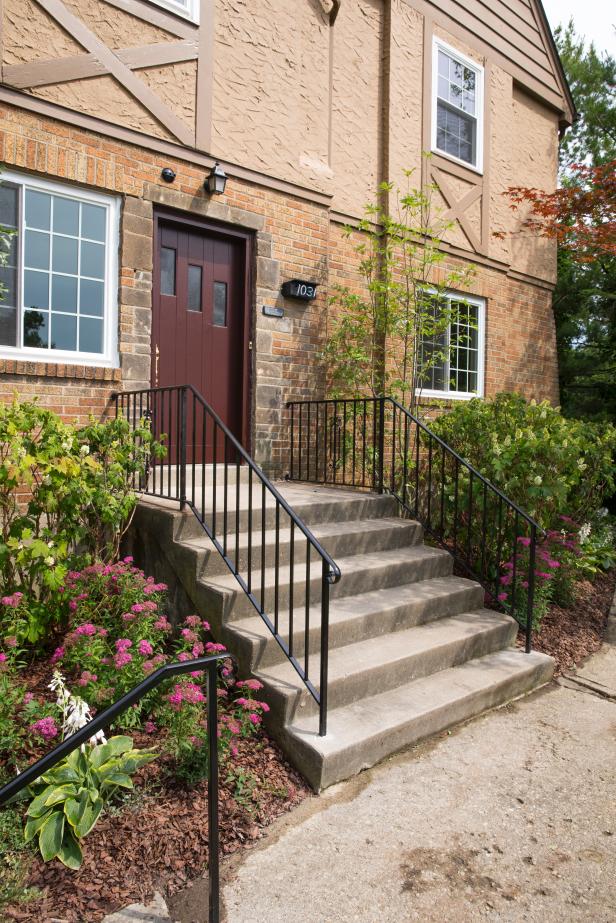 DDSL1103H_bethany-and-michael-davidson-landscape-after_s4x3
The Mount residence in Cincinnati, OH. during the yard makeover by Licensed Contractor Jason Cameron as seen on DIY Network's Desperate Landscapes. New iron railings are matched with the existing railing in front of Michael Mount and Bethany Davidson's residence.
From:
Desperate Landscapes
If you want to leave Cincinnati without really leaving Cincinnati, you come here. Situated on what feels like a small mountain overlooking the downtown skyline and the Ohio River, there's something very European about the community. With its narrow winding streets, eclectic shops, bars and restaurants, mixed in with narrow houses and historic churches, honestly you half-expect to bump into an Italian peasant woman on the way to the market.

Maybe that's overstating it a bit, but Mount Adams (often spelled Mt. Adams) is a beautiful and charming place to live and visit. Department stores, fast-food restaurants and outlet malls don't exist here, and the entire community is surrounded by the spacious and elegant Eden Park.

Mount Adams was named for President John Quincy Adams, who in 1843 delivered the dedication address for what was then the world's most powerful observatory; years later, just before the Observatory was moved to what is now known as Mount Lookout, Cleveland Abbe would use the Cincinnati Observatory to help predict the weather. He later founded the National Weather Service.

History is apparent throughout Mount Adams. During a brief time in the early 1800s, it was one of the wine-making capitals of the world, and during the Civil War, two artillery cannons were installed on the hill to help defend the city from the Confederacy. Fortunately, to everyone's relief, neither gun ever was fired.

The neighbors: Young professionals with money; artisans with not so much money
It's easy to see why millionaires -- from Chiquita banana CEO Carl Linder to English musician Peter Frampton -- would want to live in Indian Hill. It's a beautiful stretch of land with charming little roads like Old Hickory Lane and Sleepy Hollow Road.

Let's not mince words; this is where the other half lives. The rich half. The Robb Report once named the village the "best place to raise a family," and it's easy to see why mothers and fathers would want their children growing up here. Rolling hills, not to mention the occasional Rolls-Royce, vast stretches of forestland and 1920s-era mansions dotted across the countryside make it an attractive area.

It was also "green" long before the current earth-conscious trend. Indian Hill's zoning is 100 percent residential and agricultural. Only single-family houses are allowed to be built here; the only exceptions are schools, churches and city administration buildings.

If you drive to the southwestern part of Indian Hill, past the grove of trees and absence of any Golden Arches, you can see Camp Dennison where more than 50,000 recruits once trained for the Civil War. Also nearby and equally enchanting is the Schoolhouse, a one-room school that now doubles as a family-friendly restaurant.

The neighbors: As if you didn't pick up on it already, the affluent.
If you want to feel like you're in Cincinnati without living in downtown Cincinnati, Hyde Park is a good choice. The center of the community is Hyde Park Square, a two-block area of Erie Avenue, full of retail shops and restaurants. It was initially a wealthy enclave when it was created in 1892, named after the fashionable Hyde Park neighborhood in New York City. Business bought up the land that would become Cincinnati's Hyde Park and then they did something they could never get away with today. They sold homes to their friends, family and anyone they deemed appropriate for the area -- and turned away those they didn't want. It's not a great way to begin a neighborhood, but the businessmen got what they wanted. Hyde Park is now one of Cincinnati's most prestigious and well-regarded neighborhoods.

It's a very centrally located community with a lot to offer its residents, like sidewalks, for easy jogging and walking. The Krohn Conservatory is nearby, and that's a fun place to go and commune with flowers, plants and butterflies. You're also close to the Cincinnati Art Museum and just about four miles away from everything that downtown offers. They also are next to Ault Park, which Cincinnati considers to be part of the neighborhood of Mount Lookout. Hyde Park residents insist that the popular park is theirs, but of course, anyone can go to the park, Hyde Park resident or not.

The neighbors: Upper-middle class families and a lot of young professionals
Underrated, often misunderstood and forgotten by the rest of Cincinnati, Delhi Township — parts of which are within Cincinnati city limits and parts that aren't —has its charming quirks and eccentricities that make it a special place to live. Sure, in many ways, it's like any American community — McDonald's, Kmarts, IHOPs and outlet malls are plentiful here.

But still, it's a landscape of rolling hills and a lot of rural countryside. Its nickname, the Floral Paradise of Ohio, may give you a sense of what we're dealing with. In Delhi Township, the city and countryside are co-existing together quite nicely.

But Delhi and the rest of Cincinnati is another story, sort of. There's a long-running friendly rivalry where everyone on the west side of I-75, where Delhi Township is, thinks that those on the east side of I-75 (neighborhoods like Hyde Park and Mount Adams) are affluent, stuck up, sophisticated folk. Those in East Cincinnati, meanwhile, consider those in Delhi to be beer-guzzling, NASCAR-loving, not all that bright people ... never mind the fact that Delhi is the home of the very well regarded, Catholic liberal arts school, the College of Mount St. Joseph.

Good-natured stereotypes aside, Delhi is an attractive area with a lot of friendly people and some really eccentric charms. For instance, what is the obsession with all of the roads with Glen in them? There's Glenway Avenue, Glenway Cross, Glencrossing Way? Ignore those roads as best as you can, because if those are your landmarks as you drive around the twisted countryside roads, with the outlet malls and Denny's everywhere, you will get very, very lost.

The neighbors: Middle-class, the rich, poor folk; just about everyone lives here
North of Cincinnati and outside of the interstate belt of I-275 is West Chester, a growing, populated suburb. Some might say it's a little too populated -- traffic on Tylersville Road can get pretty insane -- but there's a reason people move here. It has more of a town feeling to it than a big city, although it has all of the amenities and diversity of a city. For instance, West Chester has long been the home of the Islamic Center of Greater Cincinnati, which is also one of the largest mosques in the area.

For recreation, families enjoy the Ronald Reagan Voice of Freedom Park, which has a lot of good bird-watching opportunities, thanks to the rolling, grassy hills and the lake, which has is surrounded by a 1.42 walking trail.

There are lovely shops, restaurants and unique attractions like EnterTRAINment Junction, which has the world's largest (25,000 square feet) indoor train display and an incredible children's play area where kids can bounce, climb and crawl; there's also a railroad museum here and walk-through mazes.

It's a suburb that's growing exponentially. If Cincinnati and Dayton ever morph into something that resembles one large city, like Dallas-Forth Worth and Minneapolis-St. Paul, it may well be due to West Chester's sprawling growth.

The neighbors: Upper middle-class, many of them families