5 Great Neighborhoods in Denver
From quirky downtown lofts to majestic acreage, there's a neighborhood in Denver for every age, lifestyle and budget.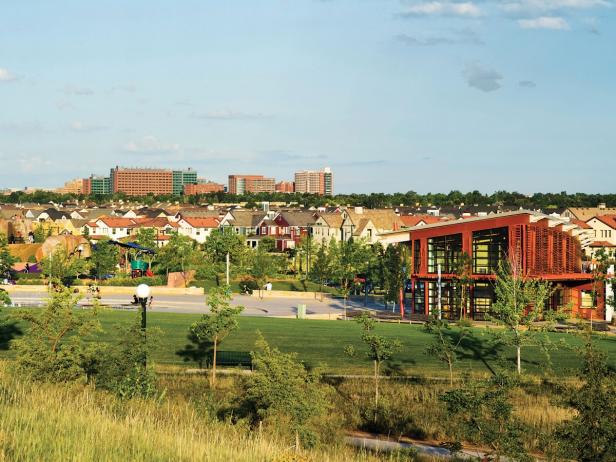 Spotlight on Stapleton: Stapleton Attractions and Housing
Modeled after the principles of new urbanism, Denver's newest neighborhood combines the perks of urban living with a traditional, small-town atmosphere. Residents of Stapleton -- the location of this year's HGTV Green Home -- enjoy walkable streets, a vibrant town center and more than 500 acres of parks and open space. Plus, the community is conveniently located just 10 minutes from downtown Denver, 20 minutes from Denver International Airport and 30 minutes from Colorado's Rocky Mountains.
This neighborhood's namesake park, a 165-acre sprawl of trees, grass, flowers, lakes and running paths, is what makes Wash Park one of the most desirable neighborhoods in Denver. But its dense cluster of quaint buildings from the 1920s and the mountain views help, too. Then there's the restaurants, pubs and coffee shops in the area. If the urban vibe isn't enough for you, Wash Park is also one of the city's most family-friendly neighborhoods. Most of the Wash Park is zoned for the Bromwell Elementary, one of the city's best elementary schools. The neighbors: Young couples with kids, singles, retirees.
Downtown Denver is divided into two regions. One contains a lot of skyscrapers and office workers. The other — LoDo — is filled with older, smaller buildings (many made of brick) that have been converted into lofts, new condo towers and a density of restaurants, bars, and shops. Just a decade ago, LoDo was fine for people who wanted to live among the action, but it didn't have much to offer outside of places to drink and eat. Now LoDo has Riverfront Park, a rolling, meandering grassy swatch of real estate fronting the Platte River, offering great mountain views, places to barbecue and plenty of space to hang out. The park has made LoDo that much more desirable. You will not find a single-family home in all of LoDo, but you can nab a spacious loft, albeit one that will set you back a good bit (lofts range from $300k to well over a million dollars). The Neighbors: Wealthy retirees, young professionals with plenty of cash and no kids, middle-aged professionals with plenty of cash and no kids, a smattering of well-to-do families with kids.
You want funky. You don't want crime, and you'd like a big park in the neighborhood. Uptown may be your place. This is one of Denver's older neighborhoods, filled with turn-of-the-century Queen Anne and Victorian houses, but it's near the booming new downtown with its skyscrapers and fresh condo developments. So if you work downtown, your commute is nominal. A decade ago there wasn't much happening along 17th Avenue, Uptown's main drag, but now it's lined with restaurants, bars, coffee shops and boutiques. Uptown borders City Park, a 330-acre sprawl of nature that rivals Washington Park for the city's best green space. In addition to a big lake with swan-shaped paddle boats, City Park holds the Denver Zoo and the Denver Museum of Nature and Science. The neighbors: 20-something hipsters, 30-something hipsters, artists, urban-embracing families.
Denver isn't known for its ethnic neighborhoods, but Highlands is a little different. The Italian-Americans who used to live in Highland are still here. The longtime Hispanic families remain in Highland as well as more and more immigrants from Mexico. Highland today has 30-something hipsters strolling by the strips of independent shops, coffee shops and bistros, and elderly Italians sitting in parks and streets lined with stores advertising deals in Spanish. The neighborhood is somewhat removed from the heart of Denver. Most of the action happens south and east of downtown, but Highland is north and west. Perhaps that's what makes Highland so special. Not only does Highland have its own culture and vibe, but it's also that much closer to the mountains. The neighbors: Hispanic families who have lived in Denver for generations, Mexican immigrants, adventurous young professional families, hipsters. As Highland undergoes redevelopment (lofts, condos, contemporary town houses) the income levels are rising, but traditionally Highland was an affordable part of the city.
A good six miles east of downtown, Stapleton is the biggest urban redevelopment project in the United States. When the city decided to move the airport to the east, voters elected to transform the old airport into a new neighborhood. Although at 4,700 acres and 30,000 residents, Stapleton is more of a community than a neighborhood. The oldest houses are only about seven years old, and developers continue to build new ones. Parks, including the 80-acre Central Park, thread the community. The development is based on "New Urbanism" principles, meaning public spaces are stressed. Every few blocks seem to contain another playground, houses sport front porches, alleys allow garages to dominate the back of the houses and retail is zoned into the sea of residential homes. It's not for everybody. The houses are close together. The yards are very small, and trees are still young. But for those who embrace it, Stapleton is great. The community comes with its own schools, which are among the best in the city. The neighbors: Families with children, retirees (often with their kids and grandkids living somewhere within Stapleton). You can buy a small house in Stapleton for $350,000 or so, but most of the houses sell for $400,000 and up. Most of the people who live here are immersed in their careers and families.