5 Great Neighborhoods in Fort Lauderdale
Fort Launderdale's most desirable residential locations include Victoria Park, Colee Hammock and The Isles, whose waterfront properties are dotted with beautiful homes and yachts.
By:
Ray Brasted

and

Susan Lazarus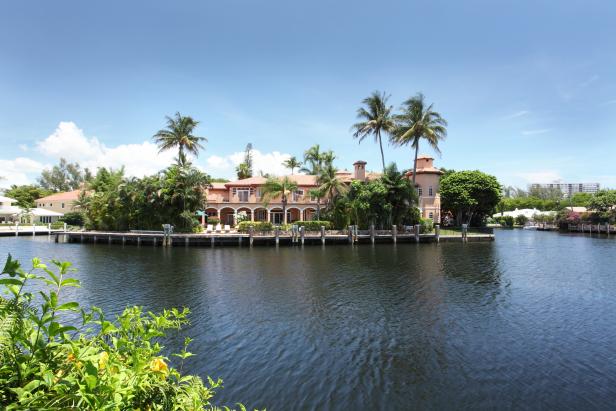 Waterfront Mediterranean Home in Fort Lauderdale
Surrounded by more than 465 feet of waterfront sprawling over half of a private isle, this spectacular Mediterranean-style estate creates the ultimate resort-at-home paradise. Located in one of the premier waterfront communities of Fort Lauderdale, Bay Colony is a prestigious guard-gated enclave of estate homes lining tranquil waterways that embody Fort Lauderdale's acclaim as the "Venice of America."
Premier Estate Properties, Inc., a member of Luxury Portfolio International
Since the early 1990s, there has been a migration into neighborhoods around downtown Fort Lauderdale. As a result, these areas have become the "in" places to live. Victoria Park is a perfect example. There's more than one person kicking herself because she didn't snap up a home 15 years ago when prices were well under $100,000. Today, Victoria Park is called home by more than 10,000 "diverse and tolerant" (according to the community's website) residents who take tremendous pride in their homes and the fact that they live in the heart of Fort Lauderdale.
Victoria Park is a mixture of old homes, painstakingly restored by loving owners, and large estate homes squeezed onto city lots. The neighborhood association is very active, with committees working on everything from children and aesthetics to traffic and zoning. The association publishes a newsletter that, among other things, offers advice on living in one of South Florida's most desirable locations. Minutes from the beach, the Intracoastal Waterway, shopping and dining, Victoria Park ultimately is a neighborhood of families, couples (straight and gay), singles and seniors who share the common knowledge that they are fortunate to be living in a special place.
This is one of the oldest neighborhoods in Fort Lauderdale. As the name implies, the area is built on a hammock, a rise in the ground amid the marshes and waterways that once dominated old Fort Lauderdale. It is remarkable to discover that although the neighborhood abuts the Intracoastal Waterway and the New River, and is only a mile and a half from the ocean, most of the streets are not in a flood plain.
There are homes here that are more than 70 years old and, thanks to the renaissance of the downtown area, many have been beautifully restored. Large new homes built on small lots share this community with condos, apartments and restored historic residences. There are sidewalks on most of the streets and the city has totally redone the sewer system.
The neighborhood encompasses Las Olas Boulevard, an internationally known destination for those seeking unique boutiques, sidewalk cafe dining and entertainment venues. If you live in Colee Hammock, you can walk to dozens of restaurants, the theater, museums, art galleries, the New River and the Atlantic Ocean. On a 15-minute stroll, you can go to the post office, pick up a freshly baked loaf of Italian bread, stop by the pharmacy, visit a card shop and then stop in at your neighborhood news emporium. If you have a few extra minutes, you can stroll Las Olas Boulevard and shop for fashions, jewelry, home furnishings and works of art.
This is a very eclectic neighborhood where the independently wealthy and the working-class individual enjoy the same amenities. The civic association, in turn, goes from very active to almost dormant. Unlike neighboring Victoria Park, Colee Hammock's residents have more disagreements mainly due to the neighborhood's diversity and proximity to the urban core. Development, traffic and parking issues bring out the locals who don't always agree on what is best for the community. But rest assured, this is a vibrant neighborhood in which to live.
Just east of Federal Highway (U.S. 1) and a few blocks south of downtown Fort Lauderdale, Rio Vista was the location of choice for families long before the resurgence of downtown neighborhoods. It hasn't lost that title; it just shares it these days.
There are more than 1,000 homes in Rio Vista, many on the Intracoastal Waterway or the New River. Even small homes have their own docks, and boaters can easily cruise or sail offshore. The neighborhood was founded in the 1920s and the tree-lined streets retain much of the ambiance of the Old South.
Don't plan on speeding through this community or you will likely "bottom out" when you hit one of the many speed bumps strategically placed on the roadway. You will want to go slower anyway, because this serene and family-oriented neighborhood is worth seeing.
A short drive from downtown, Port Everglades and the Fort Lauderdale-Hollywood International Airport, Rio Vista is an oasis of tranquility in a sea of urban activity.
This neighborhood, west of downtown, gives rise to the phrase "who knew?" Who would have thought that a working-class neighborhood of the early 1900s dotted with "cracker" houses built with local materials would become the "in" place to live? Just a few decades ago, Sailboat Bend was a place of high crime with illegal drugs and prostitution driving its economy.
The community fought back and the result is a historic Sailboat Bend where the best of the past is recalled in restored homes and "adopted" sites where landscaping is meticulously maintained. Picket fences, surrounding colorfully painted houses, line the streets.
An artist-lofts development is a relatively new addition, and the community now holds tours of historic homes and sites. The New River forms the southern boundary line and the Broward Center for the Performing Arts is on the east. Broward Boulevard, the primary road into downtown Fort Lauderdale from Interstate 95, forms the northern boundary of this tiny community of roughly 60 city blocks, one-third of which is occupied by government office buildings.
Sailboat Bend is a unique, historic place that a growing number of professionals and year-round residents of all ages and backgrounds are calling home.
The "Venice of America" comes by its name for good reason. Waterfront property created by dredging the mangrove swamps has resulted in more than 300 miles of inland waterways in Greater Fort Lauderdale. This miracle of engineering began in the 1920s when developer Charles G. Rodes studied the parallel canal system of Venice, Italy, and used a technique call "finger islanding" to create the most sought-after pieces of real estate in the country.
Beautiful homes, many with magnificent yachts docked outside their doors, grace the neighborhoods. You will also find speedboats, kayaks and sailboats tied up, ready for a few minutes or hours on the waterway.
Drive down any one of the finger islands and you will be on a residential street where neighbors gather at the homes of friends and form associations to ensure the future of their communities.
The homes of Las Olas Isles are minutes from the ocean by boat or car and just as quickly, homeowners can be in downtown Fort Lauderdale. During the holidays, locals and visitors alike board water taxis, charter boats, personal water crafts or dinner cruise yachts to take in the holiday lights and enjoy a view of Fort Lauderdale from the water.