5 Great Neighborhoods in Tucson
Tour Tucson's most popular communities, from Sam Hughes and its colorful bungalows to Civano and its solar-powered adobe homes.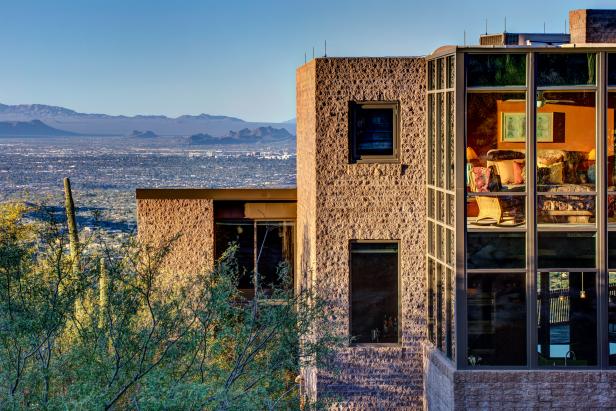 Stunning Desert Home With Soaring Windows
Shrugging off its Southwestern roots, the home's contemporary exterior is wrapped in glass and stone. The mixed material facade covers both the 5,188-square-foot main residence and the guest house.
Long Realty Company, a member of Luxury Portfolio International
Shrugging off its Southwestern roots, the home's contemporary exterior is wrapped in glass and stone. The mixed material facade covers both the 5,188-square-foot main residence and the guest house.
Sam Hughes is one of those central Tucson neighborhoods that outsiders don't expect. Turn-of-the-century territorial style houses and mission-style bungalows painted in browns and purples and sage greens sit on quiet, tree-lined streets, all within walking distance of shops, restaurants and parks. It's also close to the University of Arizona and Downtown, Tucson's cultural center. Named after an early civic leader, the neighborhood is in a constant state of revitalization as new homeowners move in to restore older homes. Housing prices range from the $200,000 to $1.5 million, attracting a diverse population.
The Neighbors: A cross-section of the city -- everyone from university professors to starving students, lawyers and civic leaders to artists, young families to professional sports stars
Armory Park. Stately red-brick Victorians, Queen Anne, Mission and Spanish Colonial revival style homes are in various states of rehabilitation in this neighborhood just east of Downtown. The neighborhood isn't for everyone and can still be gritty, but for those looking for a more urban experience, Armory Park is a good choice. It's within walking distance to Fourth Avenue, the U of A and downtown. In coming years, the city has committed to a major redevelopment of the neighboring areas.
Barrio Historico. One of Tucson's oldest and most diverse neighborhoods, a mix of longtime Hispanic residents and newer artists, creative types and couples without children have moved into these brightly colored Sonoran adobe row houses south of Downtown.

Blenman Elm. Doctors, university professors, young professionals, families live in this area known for its neighborly feel and proximity to University Medical Center.
This high-end golf course development at the base of the Tortolito Mountains in the suburb of Marana has become one of the most popular new neighborhoods in the last few years with home prices that range from affordable to astronomical. It's just to the north of the city with easy freeway access, making it popular with people who work in other parts of the city. Like the foothills, houses are spread out on rugged lots in the hills and valleys. The southwest style stucco houses have been built to complement the desert landscape with muted tones and saguaro-lined streets. Tiger Woods and other golf notables have played on the championship golf course on top of the hill.
The Neighbors: Fairly homogenous mix of families, business types, retirees, golfers
Rancho Vistoso. This master-planned neighborhood in Oro Valley has some of the best schools in the area and is still close to the city and the Northwest side.
Located at the base of the Santa Catalina Mountains north of the city, the foothills offer some of the best views of downtown and are still only a 10- to 15-minute drive away. Rather than pave and concrete the desert landscape, the area has a minimalist feel with few sidewalks and narrow streets that wind through the hills. The mix of Southwest-style custom homes and subdivisions painted in muted browns and creams have been built to blend with the natural desert landscape. Front yards have natural desert landscaping, leaving them covered with saguaro cactuses, desert flowers and the occasional tumbleweed. The area is home to the best school district in the city, which has made it popular with families. It's also got some of the city's best restaurants and a growing number of art galleries and shops, all housed in upscale shopping centers.
The Neighbors: Healthy mix of upper-middle class and upper class Tucsonans from retirees to families, professionals
Sabino Canyon Foothills. Sabino Canyon is on the less popular Northeast side of the city with homes from $400,000 up.
This central neighborhood is sometimes called the Beverly Hills of Tucson, both for its well-heeled residents and its California-inspired landscaping and layout. Palm, citrus and eucalyptus trees line curving streets of lushly landscaped homes on one-acre lots. House styles range from Moroccan to Spanish and Italian Mediterranean. Originally built in the 1930s to attract moneyed East Coasters, today these well-preserved homes start at $500,000. The central location has made it a popular neighborhood for University of Arizona professors and administrators.
The Neighbors: University deans, administrators, professors
Colonia Solano or El Montevideo. Both are similar to El Encanto in housing style, but Colonia Solano is more old money and city elite while El Montevideo is less pricy but with some homes built by famed architect Josias Joesler.
This newer environmentally-friendly neighborhood has attracted younger families and the socially conscious to the less trendy southeast side of town. Civano, which takes its name from the ancient Hohokam Indian civilization, was built to be the opposite of other sprawling developments that dominate Tucson's fast-growing south side. Residents can walk to shops and cafes in the neighborhood center or relax in the sun on the nearby plaza. The energy-efficient adobe and Sonoran-style homes in desert hues are relatively affordable and many residents have added solar power upgrades taking advantage of Tucson's 350 days of sun.
The Neighbors: Younger families and the socially conscious.
Also Consider: Rita Ranch
The Neighbors: Military families who work at nearby Davis-Monthan Air Force Base and those who work at tech and aerospace companies on the south side of town.