Inman Park Apartments and Real Estate
The historic Inman Park neighborhood has a mix of restored and new homes.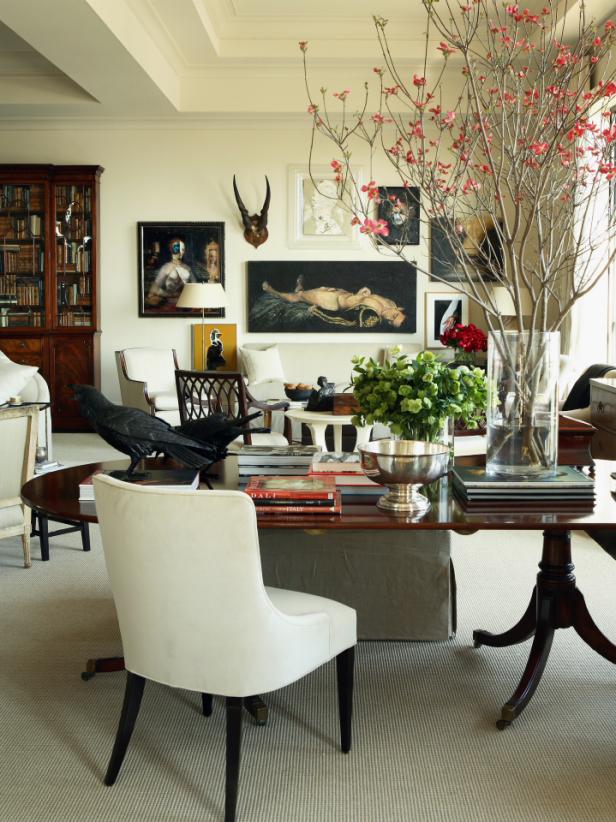 Neutral Living Room With Organic Touches
This room in the St. Regis Residences in Atlanta feels like it was collected over time. Contemporary artwork, playful colors and stuffed crows bring whimsy to a very sophisticated space.
Developed in the 1880s, Inman Park is famous for its gorgeous Victorian-era painted ladies, Italianate and Romanesque mansions and cozy bungalows. Although it has its share of mansions, you don't have to be a millionaire to be part of this in-town community.
After a period of decline, Inman Park has enjoyed a revitalization that has helped it once again become an address of choice for many Atlanta residents. A good bit of that renovation has happened on the neighborhood's west side in former industrial areas that are now trendy apartment and condominium developments. The neighborhood has also had its share of new construction, and new projects are currently under development.
Inman Village Townhomes is a luxury community built to complement the neighborhood's historic design. Three-bedroom condos here range in price from about $570,000 to $690,000. Amenities include private decks, gardens and a swimming pool.
At Inman Park Village Lofts, a one-bedroom condominium can start at around $145,000. Amenities in this complex include a fitness center, club room and rooftop lounge. At Inman Motor Works, a smaller community, loft condos list at about $175,000.
Inman Green is a certified "green" condo project with such environmentally conscious features as rooftop vegetation, recycled building materials and drought-resistant landscaping. Two-bedroom units start at about $325,000.
If a large condo community doesn't appeal to you, you may be able to find a townhome in one of the larger Victorian homes. Prices will vary depending on the size and features offered.
If you're looking for an apartment, check out North Highland Steel Apartments. This complex has studio, one- and two-bedroom apartments ranging from about $1,000 to $2,400 per month. Amenities include a pool, fitness center, controlled access and free bicycle rentals.
The Mariposa Loft Apartments, located on Montag Circle, offers studio, one- and two-bedroom apartments with rent ranging from $1,100 to $1,700 per month. Amenities include a fitness center, swimming pool and exclusive club rooms.
More mixed-use development is in the works, including 280 Elizabeth Street (the project's temporary name), which is slated to have apartments and some 39,000 square feet of retail space in the neighborhood's commercial district.
Many of the stately old homes have been converted into commercial properties such as B&Bs. However, you can occasionally find single-family homes for sale. A renovated bungalow will list for about $650,000 and up. Smaller homes and restoration projects can be found for $300,000 and up. And for that stately mansion, you can expect to pay $1 million or more.