View Jacksonville's top grocery and specialty stores, museums, parks, restaurants, clubs and more.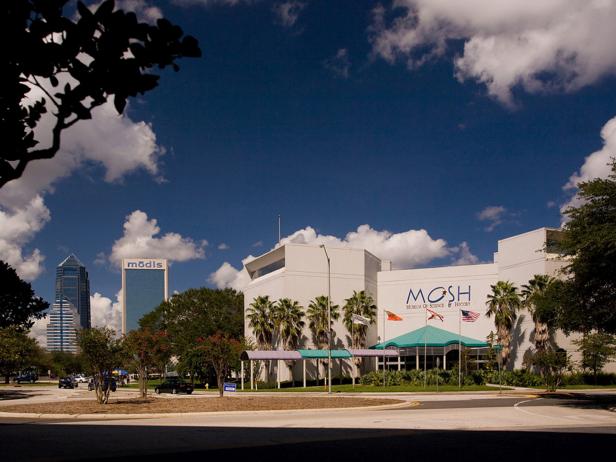 Museum of Science and History in Jacksonville, Fla.
The Museum of Science and History houses the Bryan Gooding Planetarium -- the largest single-lens planetarium in the world -- plus a range of rotating and permanent exhibits exploring nature, history and science. Notable exhibits include Water Worlds, which showcases aquatic animals found throughout Florida and beyond, and Currents in Time, which takes visitors through the history of Jacksonville and Northeast Florida.
Food and Drink: The Best Places To...
It's one of the largest and fastest-growing supermarket chains in the South. There's a Publix perched approximately every five miles in all sections of the city.
Native Sun, 11030 Baymeadows Rd., (904) 260-2791
This Southside store focuses on natural and organic items. Here you'll find organic produce; grass-fed beef; free-range poultry; wild-caught fish; soy products; and natural health and beauty products, supplements, baby products, pet food and household supplies.
Whole Foods, 10601 San Jose Blvd., (904) 288-1100
Jax's first Whole Foods opened in 2008. This natural and organic chain was a welcome delight to Jax shoppers. Grab everything you need for dinner combined with a unique shopping experience. Wine tasting, store-made gelato and various foodie, music and cooking events are held weekly.
Loop Pizza Grill, 8221 Southside Blvd, (904) 645-7788
With a handful of locations around the city, this local chain pleases the late-night crowd (open till 4 a.m.). Diner fare of burgers, wraps, specialty pizzas and to-die-for shakes make stopping in after a show a cool option. The tomato bisque soup is pure comfort food.
Where Ya Bean, 235 8th Ave S, Jacksonville Beach, (904) 247-6869
Housed in a funky former beach house, Where Ya Bean has a gallery of local artwork, free Wi-Fi, specialty coffees, smoothies and kick-butt expresso. Locals lug in a laptop and work from a corner booth.
CamiCakes, 1910 Wells Rd, 9734-5 Deerlake Ct, (904) 541-1095, (904) 998-4611
Named for the owner's daughter, Camille, this cupcake bakery is a pink infusion of sweetness and flavor. Try one of their 16 varieties of cupcakes like Chocolate Peanut Butter Cream or Chocolate Raspberry Almond Cream.
Locals frequent Where Ya Bean? on Southside Boulevard for its specialty coffees and free Wi-Fi.
Nightlife: The Best Places To...
Ocean Club, 401 N. First Street, Jacksonville Beach, (904) 242-8884
A crowd of 20-somethings dances the night away at this beachfront nightspot. The kitchen is open 4-10 pm serving pizza, oysters and sandwiches. Resident and guest DJ's keep the dance floor packed most weekends with a mix of music from the '80s forward.
Endo Exo Club, 1224 King Ave, (904) 396-7733
A South Beach-style club in the heart of San Marco, Endo Exo features two stages for live music nightly. There's an outdoor concert area and several VIP spots in which to chill, sip your cocktail or chat quietly with new friends.
Ragtime Tavern, 207 Atlantic Blvd, Atlantic Beach, (904) 241-7877
The best microbrewery in Jacksonville with five mainstay beers on tap including standards and seasonals. Grab an American Ale or a Westbury Wheat and huddle in an oversized wooden booth. There's good seafood to go with the beer; try the coconut shrimp or sesame seared tuna.
Ragtime Tavern on Atlantic Boulevard serves seafood and six beers on tap.
Entertainment Essentials: The Best Places To...
Paws Dog Park, 11 N. Third Street, Jacksonville Beach, (904) 513-9240
The first city-sponsored, off-leash dog park with separate large- and small-pooch sections is the perfect spot to spend the afternoon. Visit during yappy hour, Saturdays at 4 p.m. You and the pup may meet some soul mates.
Adventure Landing (2 locations), 1944 Beach Blvd & 4825 Blanding Blvd, (904) 246-4386 & (904) 771-2803
This family amusement center offers a water park with a wave pool, 12 slides, spray nozzles and Florida's only uphill water coaster. There's also miniature golf, an arcade, go-karts and laser tag.
MOSH (Museum of Science and History), 1025 Museum Circle, (904) 396-6674
Bring the kiddies for a day of education disguised as fun. There's a planetarium and hands-on science experiments, a treehouse and preschool water play. Rotating and permanent exhibits are a constant source of learning and amusement for all. Science geeks will love a membership.
It's Eclectic, 525 3rd St N, Jacksonville Beach, (904) 241-0403
A funky beach boutique that carries jewelry lines like Tarina Tarantino, Lucky LuLu and Classic Hardware. This place oozes chic, with everyone from teens to 50-somethings all shopping here for new bling.
The banks of the St. Johns River from Kingsley Plantation, 11676 Palmetto Ave, (904) 251-3537
History buffs will enjoy a visit to this 19th-century cotton and indigo plantation on Fort George Island. The area is also home to salt marshes, coastal dunes and hardwood hammocks (patches of forest). It's a great way to experience the unspoiled beauty of the area.
The sunset from the Jacksonville Beach Pier, 503 1st St N, (904) 241-1515
Take in the beauty of the sun sinking into the ocean from the end of this quarter-mile-long pier, where locals catch their dinner and lovers stroll hand in hand.
Moonlight Movies Film Series, Seawalk Plaza, First Street North and First Avenue, Jacksonville Beach
Free outdoor movies are shown on four consecutive Friday nights (starting at 9) from May to June at the Seawalk Pavilion on the ocean at Jacksonville Beach. Classics like Jaws, Poltergeist and E.T.: The Extra-Terrestrial draw a huge blanket-and-lawn-chair crowd. Be sure to BYOP: bring your own popcorn.