What It's Like to Live in a Multicultural Neighborhood
From an accepting atmosphere to appetizing cuisine, living in a diverse community comes with many advantages.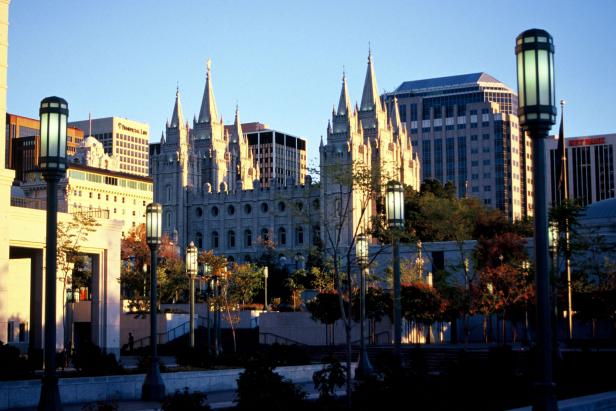 Salt Lake Temple
The Salt Lake Temple is the largest -- and most well-known -- temple of The Church of Jesus Christ of Latter-Day Saints. The temple is located in Temple Square, a 10-acre complex in the heart of the city. It took 40 years to complete, and is only accessible to members of the church.
The Salt Lake Temple is the largest -- and most well-known -- temple of The Church of Jesus Christ of Latter-Day Saints. The temple is located in Temple Square, a 10-acre complex in the heart of the city. It took 40 years to complete, and is only accessible to members of the church.
No matter your heritage, calling an ethnically diverse community home can be a fulfilling and enlightening experience. Not only can residents of multicultural neighborhoods achieve a deeper understanding of their own ancestries through local programs and events, but they also get to explore and appreciate other cultures found throughout the community. From ethnic restaurants on every corner to cultural celebrations held throughout the year, each day offers a glimpse into other parts of the world.
"It's a wonderful experience," says Jerri Plumridge, a resident of Rainier Valley, a community in Southeast Seattle said to be the most culturally and economically diverse neighborhood in the Pacific Northwest. "Nothing is homogenous, and you get to see different cultures and viewpoints in your daily life."
Cultivating Multiculturalism
Behind a great multicultural community, you'll often find a well-run city that cares about the diversity of its residents. Take Sugar Land, Texas, for example. After being named the nation's first "Community of Respect" by the Anti-Defamation League in 2008, the city, located 20 miles southeast of Houston, was recognized for the third year in a row in 2010 for its commitment to creating an inclusive community.
So how does Sugar Land earn this award year after year? One factor was last year's "101 sessions" on Chinese, Indian and Pakistani culture, hosted by the City Manager's Multicultural Advisory Team. These sessions were created so key staff members could learn more about the traditions and history of these ethnic communities, thus improving the city's ability to meet the needs of all residents. Terri Wang, a resident of Sugar Land since 1994 and a member of the Multicultural Advisory Team, helped plan Chinese 101, which included presentations on China, authentic Chinese food and a question-and-answer session that allowed city staff to learn more about Chinese culture.
"Not only are they aware of the diversity in the city, they're also embracing it and always finding ways to be educated on different cultures," Wang says.
Reaching Out to Residents
A city that strives to understand diversity will often celebrate it as well, creating programs and events that allow residents to soak up a variety of cultures. In Sacramento, Calif., considered to be one of America's most diverse and integrated cities, the Convention & Visitors Bureau created a Multicultural Affairs department in 2001 to bring diverse visitors to the Sacramento area.
"As an offshoot of that, we also wanted to engage and assist the local ethnic communities of Sacramento," says Gary Simon, Director of Multicultural Affairs.
As a result, Simon supports a number of festivals dedicated to the diverse cultures of Sacramento, including Festival De La Familia, a celebration of Latino culture, and Juneteenth Festival, a commemoration of the Emancipation Proclamation. The CVB also created the Sacramento World Music & Dance Festival, which showcases the diversity of the region through music, dance, cuisine and crafts from a variety of cultures.
In Rainier Valley, multiculturalism and the arts go hand in hand thanks to SEEDArts, a program of SouthEast Effective Development. One of the program's key events is Arts Gumbo, an annual, three-part series that highlights three different cultures each year. Plumridge, who has been director of SEEDArts for 25 years, says the 2010 event showcased Mexican, Chinese and African American cultures, blending both educational and participatory events.
"The Spirit of Mexico, for example, featured Mexican dances, costumes and food, and people could also learn some of the dances," Plumridge says.
Multicultural communities often celebrate their diversity through festivals and other events.
In addition to special events, multiculturalism comes out in everyday life in these diverse communities. In Sacramento, places of worship include temples, churches, synagogues, mosques, Kingdom Halls and more that reflect the region's culturally diverse population. Even media outlets serve the city's diverse residents, offering culturally specific news and information in a variety of languages.
One appetizing perk of living in a multicultural community: authentic -- and delicious -- ethnic food is readily available. Sugar Land is home to a wide range of ethnic restaurants, including Indian, Chinese, Japanese and Mediterranean, Wang says. If she's craving cuisine not found in Sugar Land, such as Persian or Peruvian, she simply travels 30 minutes to Houston, which offers even more exotic fare.
In many multicultural communities, the best representation of diversity can be found in the schools.
"The schools in Rainier Valley are extremely multicultural," Plumridge says. "I think that's where kids and families really become acquainted with different cultures."
In Sugar Land, more than 90 different dialects are spoken by students and their families in the city's Fort Bend Independent School District. The schools also work closely with No Place for Hate, a program created by the Anti-Defamation League designed to help school communities challenge prejudice and promote respect for differences. While Wang was sometimes teased about her heritage growing up in New Jersey and Florida, her children have always felt comfortable and accepted in school, she says.
"I think all the schools here help to educate the kids and they really emphasize accepting one another and all the different ethnicities," Wang says.