Local Life and Lore in Aspen
Live like an Aspen native by mastering the essentials of the city.
Here are some words and phrases you'll be hearing in Aspen, so take note:
RFTA - Locals say pronounce it as "Rafta," and it stands for Roaring Fork Transportation Authority. That's the bus system that ferries skiers, tourists and commuters through the 40-mile corridor from Aspen to Glenwood Springs.
Ajax - That's what locals call Aspen Mountain, the town's crown jewel of skiing. Don't ask why, just roll with it.
Gaper - Gapers are snowboarders and skiers who wear bright clothes and are utterly clueless about the mountain. (In other words, tourists.) In order to avoid gaper status, play it cool and don't do anything stupid on the hill.
Tiehack - Tourists gravitate toward Aspen Mountain, Aspen Highlands, and Snowmass, but there's a section of Buttermilk Ski Area called Tiehack that's rarely skied since it's known as being for beginner's. That means there's an abundance of virgin snow on blue and black trails awaiting the powder hounds.
High seasons - Winter and summer, when the tourists and part-time residents are in town. Winter is generally considered to run Thanksgiving week through April 15; summer runs the first weekend of June through Labor Day. During spring and fall, locals have the town pretty much to themselves.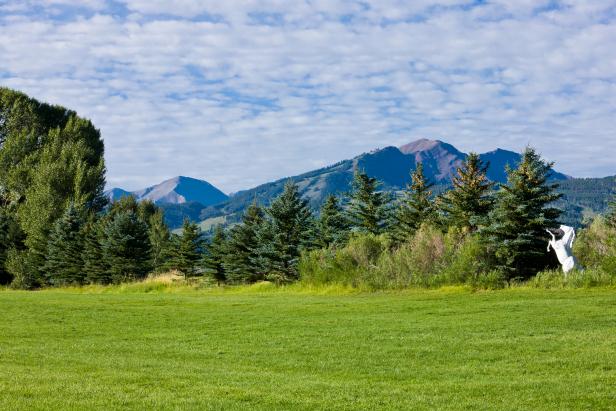 Mountain View: McLain Flats Ranch in Aspen, Colo.
This is the best ranch and property available on McLain Flats and has never been offered for sale before. A 13,000 square foot fitness facility includes a regulation NBA basketball court, tennis courts, racquetball court and an indoor track. Also featured: an eight stall barn, two bedroom manager's house, a main house with office, steam room, children's wing and incredible views from every room.
Joshua & Co. of Aspen, a member of Leading Real Estate Companies of the World
Knowing those terms is a good starting point to speaking the local lingo, but don't stop there.
Take, for instance, dining out. For sure, Aspen is home to many world-class restaurants. And the price of dining can add up quickly if you let the city's embarrassment of culinary riches reel you in. But there is an economical solution: the bar menu. Locals have been capitalizing on bar menu bargains for years.
The bar menus at such eateries as Matsuhisa, Cache Cache, Ruth's Chris Steakhouse and other fine-dining establishments put diners on the fast track to a five-star meal at an affordable price. The only drawback is you don't get to eat in the dining room. But considering you get the same food at half the price you would pay if you ordered it in the dining room, eating at the bar makes perfect sense.
Even better than the bar menus are the off-season specials. During spring and fall, restaurants offer meals at steep discounts.
Also, make sure to ask for a local's discount wherever you go. Even gas stations offer locals' discounts. You'll be happy to find out those two words can save you lots of cash.
A popular eating establishment off the beaten track is the Woody Creek Tavern, about nine miles east of Aspen. The Tavern captures the spirit of the Old West, so much so that it does not accept credit cards. The only ATM machine in the area is often broken, so be sure to bring cash or a local check with you.
Locals say they don't pay attention to the celebrities who visit or live in Aspen; we don't buy that. Which is why we recommend Carl's Pharmacy as the place to look for the likes of Seal, Heidi Klum, Goldie Hawn, John Oates, or even Jack Nicholson.
Not that that's much of a secret. Last holiday season several paparazzi were at the pharmacy -- which boasts an inventory of old-school toys, liquor, medicine and hardware -- trying to get a shot of Hawn's celebrity daughter, Kate Hudson. Aspen's finest were called to the scene, and the paparazzi abruptly got out of dodge.
And if you're a Jimmy Buffet fan, it might serve you well to know that he likes to play Aspen every once in a while. But don't expect to see his name in lights when he comes here. When Buffet performs in Aspen, he goes by the name of Freddy and the Fishsticks and plays at the Belly Up Bar.
If you're in the mood for some peace and serenity instead, there's no place better than the Maroon Bells, located eight miles up Maroon Creek Road. Buses travel there routinely during the summer season. But after 5 p.m., motorists can drive to the Bells free of charge and catch a gorgeous sunset while they're there.