Local Life and Lore in Brooklyn
Trying to chat up a Brooklynite? Here's how to do it and other need-to-know local tips.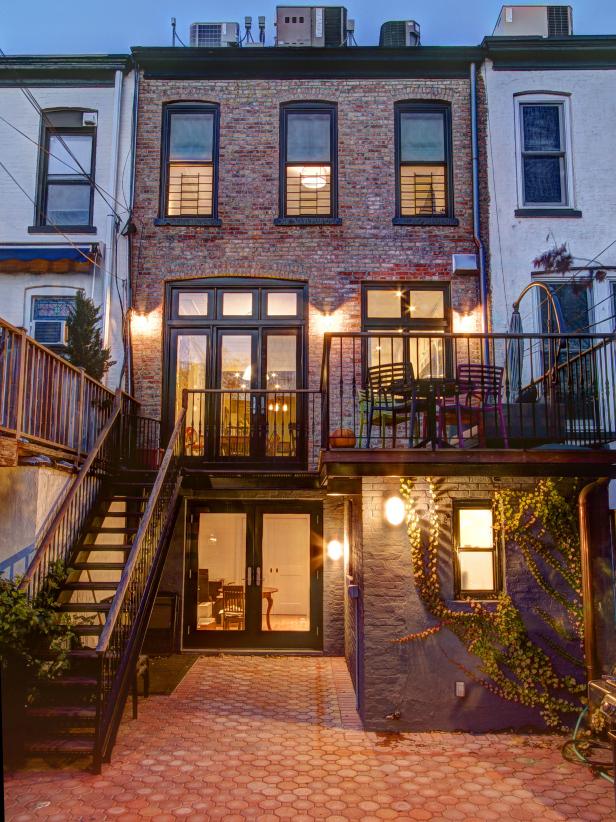 Brooklyn Brownstone Facade
The rear facade of this Brooklyn brownstone features Ipe decking, stairs, windows and doors. It's absolutely charming and it reflects a perfect balance between the old and new with traditional touches.
Photography by Marco Valencia
Brooklynites' Art of Communicating
Brooklynites have their own way of talking, walking and acting. They can spot an outsider a mile away by their mannerisms. Brooklyn locals pride themselves on being different. Not aloof, just different. They see themselves as living in a different world. And for many older-generation Brooklynites who seldom venture out of the neighborhood they grew up in, there is some truth to it. Trekking to Manhattan or Queens can be likened to visiting another part of the world.
Americans from other parts of the country initially see Brooklynites as gruff, crude and incommunicative. Unlike Southerners and Midwesterners, who work hard at being friendly to strangers, Brooklynites seldom acknowledge someone they don't know. A transplanted Texan who has just moved into a neighborhood like Williamsburg or Cobble Hill will immediately try to bond with the old-timers who've been there for a half-century or more. The Texan will pass his Brooklyn neighbor walking to the subway to catch a train to work and say, "How are you, it's a great morning!" The Brooklynite will look at him as if he's from another planet or return an icy stare.
Rather than describing Brooklynites as cold or unfriendly, shy, suspicious and cautious are more apt adjectives. If they don't know you, there is no reason to trust or understand you. Hence, what's the point of pretending to be friendly?
How do you break the ice and communicate with Brooklynites? For starters, don't come on strong. Hang back, and say nothing. Trying to bond via small talk doesn't fly, because they don't believe in fast friends.
If you just moved into a Brooklyn neighborhood and want to get to know your neighbors, do it slowly. Rather than a bombastic "Good morning!," a quick nod of acknowledgment will suffice until the ice is broken.
Want to connect with your Brooklyn neighbors? Learn the neighborhood art of "hanging out." Brooklyn stoops, which go hand in hand with the borough's brownstone and wood-frame homes, were made for stoop-sitting. Brooklynites love to sit on their stoops, whether alone or with neighbors, and sip their morning coffee (typically bought at a local candy store, where "Gimme a regular" means coffee with plenty of milk and two sugars) and scan the sports pages of the Daily News (the neighborhood paper; you won't find a bona-fide Brooklynite reading The New York Times).
During spring and summer months, stoops or the outside railings of brownstones are gathering places where locals hang out and talk about anything and everything -- their kids, politics, the NYPD (a favorite target) or baseball (Brooklynites are passionate about baseball; loyalties are evenly divided between the Mets and the Yankees -- if you're a Red Sox fan, keep it to yourself).
On a warm summer night, you'll often find more people outside on their stoops than inside. So be cool, keep a distance in the beginning and don't come on like a jet during takeoff. It may take several months to capture some recognition and strike up a conversation, but once you do, you'll have some new friends -- and loyal ones, at that.
Brooklynites are unapologetic about mangling the English language. In fact, they enjoy doing it. The merging of words like "forget about it" to "fuggedabboutit" or "you've got to be kidding" to "yagottabekiddin" or "How are you doing?" to "Howyadoin?" are more than cliche Brooklynisms. Brooklynites actually speak that way.
But there is actually a reason why Brooklynities corrupt words that begin with "t," such as "the" and "them" to "da" and "dem," respectively. John Lach, a former English teacher at The Derryfield School in Manchester, N.H., says that "the origin of 'da sound' has a lot to do with New York's early Dutch heritage. In both German and Dutch, all nouns are linked to articles like der, die, dem, dese, etc. It seems pretty natural to assume that people using that hard 'da' sound in their native tongue who are then exposed to the analogous (and much softer) English 'the' sound will transport the sounds of their native language into their attempts at English. It's like Pidgin English in that respect."
Lach goes on to say that "the sound mutation survived because Brooklyn is a city of local cultural enclaves where people have to mix. At the same time that the early Dutch/German/Yiddish types were forced to become more like everyone else, their cultural identity was reinforced in the place they lived. They couldn't get away from it. And then, after a while, everybody hung onto the pronunciation because it just sounded cool in a tough-guy sort of way."
On another level, Lach adds, the corruption of the English language became "a badge of defiance, which became a way of saying you weren't like everyone else." That's for sure.
Egg Creams: A Brooklyn Treat
If you want to experience Brooklyn, find out how to make an authentic egg cream -- a quest that can be likened to finding the Holy Grail.
Reportedly, the egg cream was created by Brooklyn candy-shop owner Louis Auster in 1890. Auster's Egg Cream sold for 3 cents. On a hot summer day, he sold as many as 3,000. Brooklyn writer Elliot Willensky wrote, "A candy store minus an egg cream, in Brooklyn at least, was as difficult to conceive of as the Earth without gravity."
So what's in an egg cream? For starters, it contains neither an egg nor cream. However, Brooklyn folklore has it that at the turn of the century, egg creams contained both eggs and cream to fatten up puny Brooklyn immigrant kids. By the 1930s, eggs and cream were dropped.
The classic egg cream contains:
milk -- whole milk, not 1 percent, 2 percent or fat-free milk
chocolate syrup -- not Hershey's or some New Age organic syrup, but Fox's U-Bet brand
seltzer water -- not Perrier, mineral water or carbonated water, but seltzer, preferably from the traditional seltzer bottle
a mixing spoon -- not an ordinary soup or teaspoon, but a 10-inch metal fountain spoon
Now the killer question: How much of each ingredient do you use? I wish I could answer it, but I don't know. My father taught me how to make an egg cream, and when I was about 13 or so I asked him how much of each ingredient to add. He shook his head, and said, "A bissel." That's Yiddish for "a little," which didn't answer my question. Like most bona-fide egg cream creators of the time, he used no set measurements. Soda-fountain owners and home practitioners like my dad did it by instinct. That's the way I learned. But I can pass on the order of ingredients:
Put two or three spoonfuls of chocolate syrup at the bottom of the glass. An unforgivable mistake that would enrage any Brooklynite of my generation is allowing the syrup to run sloppily down the sides of the glass. Not only will it mar the taste, it will destroy the egg cream aesthetic. A true egg cream not only should have the right taste, it also should look perfect.
Pour some cold milk in so it fills up the bottom of the glass.
Now the tough part -- add the seltzer. Place the spoon at the bottom of the glass with your right hand, and with your left hand either squirt or pour in seltzer, all the while bouncing the spoon up and down, mixing the syrup and the seltzer at the bottom of the glass. Never stir. Keep this motion up, and the milk on top will mysteriously rise, coating the top of the glass with a pristine white froth.
It sounds easy, but it's not. An innocent mistake like stirring syrup and milk will cause the milk to meld with other ingredients, which literally destroys the drink. What you end up with is a disgusting concoction of chocolate soda with milk.
How to drink an egg cream? I recommend a straw, strategically placed at the bottom of the glass in order to fully enjoy the unique mix of liquids. The perfect accoutrement is a crisp, fresh 6-inch or 7-inch pretzel.