Local Life and Lore in Nashville
Get the inside scoop on what to do and say (and not do and say) when in Nashville, Tennessee.
By:
Nicki Pendleton Wood

and

Kami Rice
Because three interstates (I-24, I-65, I-40) pass through Nashville, there are always two ways to get somewhere: surface street and interstate. And of course the secret back ways. When you ask someone about their day, they're likely to start by describing which route they took. Here are some tips to help you navigate Nashville:
Why North is East. Parts of town often correspond to their position relative to the river. North Nashville is really west, but it's north of the river. East Nashville is really north, but it's east of the river.
Street personalities. Nashville is a "hub-and-spoke" city, and each "spoke" has its own character. West End is the clogged business corridor. Church Street has several gay-owned businesses and the funky Elliston Place strip. 21st Avenue is dominated by Vanderbilt Medical Center. 16th and 17th Avenues hold the largest concentration of music industry companies. Charlotte is the hospital corridor. As it headed south out of Nashville, Franklin Road/Eighth Avenue was the traditional home for country music stars, while closer to central Nashville is the antique district. Rosa Parks Boulevard borders historic Germantown and runs past Bicentennial Mall. Clarksville Highway has fantastic barbecue joints.
Be forewarned that in pockets of town you may run into an unexpected term for the carpool/pickup line at school. Don't be aghast when your child is sent to the "hookup line." It's an innocent term that hasn't died out despite its other, more popular meaning.

Why you'll need to carpool. There's a thriving carpool culture here for lots of reasons. For one thing, while it's slowly improving, public transportation still isn't great, and the city is so geographically spread out that existing public transportation isn't very useful to large swathes of town. Plus, nearly 13 percent of Nashville's school children attend private school and must furnish their own transportation.
Shifting street names. Pay attention while you drive – the same street can change names unexpectedly. One minute you're driving down Harding Place and the next you're on Battery Lane. One minute you're on Hillsboro and the next you're on 21st Avenue. And Old Hickory Boulevard? If someone gives you directions involving Old Hickory, listen carefully, as it's a ring road that stretches some dozens of miles around the city.
Foreign street names. Ask someone before you try to pronounce Demonbreun or Lafayette. Especially if you actually know how to speak French.
Landmarks that no longer exist. They baffle transplants, but locals use them to navigate. "Turn where the Shoney's used to be, then go eight blocks. Park in the old Commerce Union parking garage." By the time you've lived in Nashville a while, you'll know what it looked like 20 years ago.
Epidemic of broken blinkers. Oh, and wherever you're driving, remember that Nashvillians don't use their blinkers, so watch the car in front of you.
NICKNAMES AND PHRASES TO KNOW
The Third Coast. One of Nashville's nicknames, based on the media and entertainment industry here, and the number of New York/Los Angeles transplants.
SoBro. Downtown's redevelopment has crept southward, and the area south of Broadway, "SoBro," is the place to be. The Hilton, the Country Music Hall of Fame, the Schermerhorn Symphony Center, Shelby Street Bridge. Eateries include The Palm, Crema and Sole Mio. A concert, a stroll and a meal. It's no surprise that apartments are springing up nearby.
The Gulch. The railroad gulch formed by 11th and 12th Avenues has divested the last of the old industrial tenants and is now home to clubs, restaurants and a growing supply of high-rise housing.
"TV parking." One thing to instantly love about the Third Coast, compared to the real coasts: you can often pull the car up to your destination and find a parking space right there. That's how it always happens in TV shows, even if they're set in crowded cities, like Boston or New York. Sometimes called "rock star" parking.
Eatin' meat-n-three. You'll want to stop at a "meat-n-three," the local term for Southern cooking restaurants, which usually offer a choice among several meats and three vegetables. Most are only open for lunch.
Hot chicken, hot fish. Getting either takes some driving, but the spicy, crusty deliciousness is something you can't get many other places.
Driving to the Mountain. Monteagle Mountain, 90 miles southeast on I-24, is cooler in the summer and has a couple of resorts favored by old money. But you don't have to be old money to enjoy the views: the Monteagle hiking trails are free.
Churchiness. If it's Sunday, a Nashvillian is probably driving to church. Nashville has more than 1,000 churches and religious buildings. The Gideons International, those guys who put Bibles in hotel rooms, are headquartered here. The Christian music industry is very big. The Catholic Church has a motherhouse here, for those in formation in their novitiate, for nuns who administrate and teach in St. Cecelia's Nashville schools, and for retired sisters. And as Nashville's population grows increasingly diverse, it has growing representation of other religions too.
Got it? Lots of churchiness here. Locals and transplants alike have been known to put on a skirt for a Sunday visit to the supermarket – you don't want people to think you skipped church, do you?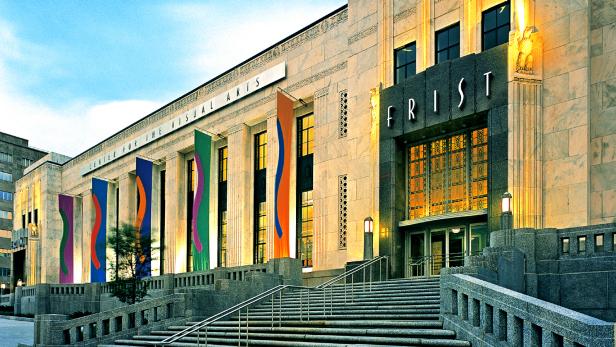 Frist Center for the Visual Arts in Nashville
The cornerstone of Nashville's burgeoning visual arts scene, the Frist Center for the Visual Arts opened in 2001 in Nashville's former main post office, a 1930s art deco building. The Frist has since hosted an impressive array of exhibits from around the world. Don't miss the family-friendly Martin ArtQuest Gallery.
Nashville Convention & Visitors Corp.
The cornerstone of Nashville's burgeoning visual arts scene, the Frist Center for the Visual Arts opened in 2001 in Nashville's former main post office, a 1930s art deco building. The Frist has since hosted an impressive array of exhibits from around the world. Don't miss the family-friendly Martin ArtQuest Gallery.
Art. Great art from the masters and deserving unknowns is all over Nashville. Chestnut Street's grotty industrial environ is home to Threesquared Gallery, a multifunctional space. The Arcade in the heart of downtown has Twist. Belle Meade has Cheekwood, a mansion with a fine collection, terrific traveling exhibits and epic gardens worth the price of admission. Downtown's jewel is the Frist Center for the Visual Arts, but the collection at the Tennessee State Museum is no slouch.

The popular First Saturday Art Crawl offers a great monthly chance to visit downtown galleries for receptions and art openings. It's free, and most galleries serve wine and refreshments in case your date is less into art than you are.

Nashville Arts Magazine is the city's premier arts magazine, celebrating and profiling Nashville's growing artistic imprint, an imprint no longer limited to music.
Nashville's art scene includes a love of outdoor sculptures. Distinguished politicians captured in bronze on Capitol Hill. Brave soldiers in Legislative Plaza. A giant Greek goddess inside the Parthenon. Nekkid dancing butts on Music Row. Evangelist Billy Graham at Eighth Avenue and Commerce Street. Some random guy in bronze on the park bench next to you. There's no escape.

Nashville Convention & Visitors Corp.
Cheer on the home team at LP Field! Nashvillians love their Titans and look forward to game day whether or not the team's on a winning streak.
Sports. Tennessee Titans and Nashville Predators. Professional football in the autumn (1 Titans Way) and professional hockey in the winter in the Arena at 501 Broadway. And in the summer you can root, root, root for the home team when you cheer on the Nashville Sounds, the city's Triple-A minor league team.
Students everywhere. There are 21 colleges and universities here, and around 100,000 students enrolled at any given time.
Celebrities. Celebrity-spotting is a secret pastime here. You might spot Vince Gill having breakfast or Kid Rock in the supermarket. But follow the local rule and don't bug the celebrities. We're subconsciously protective of them.
Summer means Swim Club. Never mind that Nashville has three rivers and two lakes: a dozen or more swim clubs and country clubs provide waterside recreation closer to home.
Medicine. With two medical schools, more than half a dozen major hospitals and many healthcare businesses, Nashville is a great place to be under the weather.
Greenways. Upon completion, the Metro Nashville's parks department's Greenways Master Plan will place a greenway trail within 2 miles of every Nashvillian. With more than 50 miles of greenway trails and over 150 miles of primitive trails already, the plan is nearly two-thirds complete. Frequented by walkers and strollers, used by skaters and as cut-through by cyclists, the greenways are frequently cited as the best new thing in Nashville.
College radio. Indy powerhouse WRVU emanates from Vanderbilt and attracts a surprisingly large community audience, which the jocks occasionally forget. WMOT out of Murfreesboro and WFSK, Fisks' station, specialize in jazz.