Local Life and Lore in Santa Fe
Know key terms and learn how to speak like a local in Santa Fe.
Joining the ranks of the locals is easy enough. You just need to understand the attitudes and customs:
Put the accent on the right syllable
Do learn to pronounce local place names, family names, and food items correctly. It's not necessary to speak Spanish, but people cringe at hearing the name Jimenez pronounced "JIM-in-nez" instead of "hee-MEN-es." Conversely, it's important to know that the neighboring town of Madrid is pronounced "MAD-rid."
We're Spanish
Don't confuse New Mexican culture with Mexican culture. People here are proud of their Spanish heritage and look upon the brief period of Mexican rule (1821 to 1848) as an aberration. Despite many similarities and much overlap, the cultures are distinct.
No dress code
Appearances can be deceiving here because people tend to dress casually and hang out, no matter their status. That guy in overalls and a cowboy hat in line behind you at the supermarket could be a farmer, but he could also be a state senator or a college professor. And the woman tending bar and wearing boots at your favorite watering hole might have a Ph.D. in physics.
Vigas: Those ubiquitous round log beams that characterize most Santa Fe-style architecture and add so much warmth and ambience.
Bancos: Built-in benches made of adobe that extend into the room as if growing organically out of the walls.
Portal: A long covered porch that usually runs the length of a house or building (pronounced por-TAL).
Kiva fireplaces: Rounded, beehive-shaped adobe fireplaces.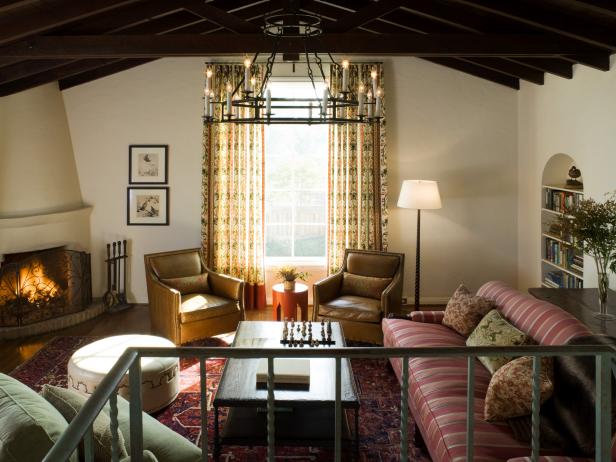 Gorgeous Mediterranean-Style Living Room
An iron chandelier hangs from the high, wood-beamed ceiling in this living room.. A rounded stucco fireplace and arched, built-ins lend a Spanish touch.
Coddington Design, Scripps Networks, LLC
Hornos: Same as the kiva fireplaces but built outdoors and used for cooking. You see them in the yards of the Pueblo Indians and the Spanish villagers.
Pueblo-style architecture: Flat-roofed adobe buildings with vigas and kiva fireplaces.
Territorial architecture: Also flat-roofed, but with squared-off columns rather than beams, broad portals and often brick copings.
Ristras: Strands of red chile seen hanging on the portales of many local homes. For old-timers, this is how the fresh chiles are dried. For newcomers, they're a charming decoration.