Local Life and Lore in Tampa Bay
Learn these terms and teams to blend in with the locals.
By:
Judy Stark

and

Chris Kuhn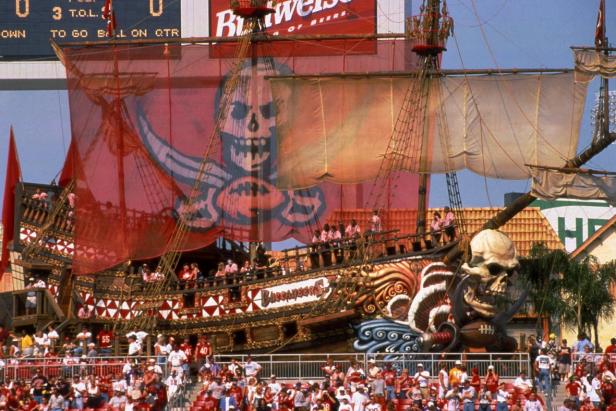 Buccaneer Cove at Raymond James Stadium in Tampa, Fla.
Fit in with Tampa locals by learning the area's sports teams and venues. Raymond James Stadium (pictured) is home to the NFL's Tampa Bay Buccaneers. The MLB's Tampa Bay Rays play at Tropicana Field, while the NHL's Tampa Bay Lightning play at Tampa Bay Times Forum.
VisitTampaBay.com
Fit in with Tampa locals by learning the area's sports teams and venues. Raymond James Stadium (pictured) is home to the NFL's Tampa Bay Buccaneers. The MLB's Tampa Bay Rays play at Tropicana Field, while the NHL's Tampa Bay Lightning play at Tampa Bay Times Forum.
Locals know that if you say you live in Tampa Bay, you've probably sprouted fins. No matter what the national sportscasters say when they call the games from one of our local venues, Tampa Bay is the body of water between Tampa and St. Petersburg.
Locals also know that when we ask you where you're from, we don't mean your neighborhood or even your gated subdivision. We mean where you're from --where you lived before you moved here. You may hear some original Florida accents around here, but lots of us speak with the Noo Yawk or Joisey accents or the flat Midwestern vowels we brought with us when we moved here. You want honey-dripping magnolia talk? Move North, like to Jacksonville or Georgia. They're more Southern than we are.
You can tell the tourists from the locals because the tourists are the ones with bright red arms and legs from too much sun. They're the ones with the scarlet faces and white raccoon sunglass rings around their eyes. The locals won't go near the water from November until May; it's too cold! Live here long enough, and you'll have iced tea in your veins, too.
Pro Sports: "The Trop" is Tropicana Field, the domed stadium in St. Petersburg where the Tampa Bay Rays play baseball. Tampa Bay Times Forum is actually in downtown Tampa, home of the NHL Tampa Bay Lightning and a major concert venue. "RayJay" is Raymond James Stadium in Tampa, where the NFL Tampa Bay Buccaneers play.

College Sports: In the world of college athletics, which in many circles in Florida is more important than life itself, the only teams that matter are the University of Florida Gators, based in Gainesville, and the Florida State University Seminoles ("the Noles"), in Tallahassee. Closer to home, we cheer for the University of South Florida Bulls and the University of Tampa Spartans, both based in Tampa, the nearby Saint Leo University Lions and the University of Central Florida Knights of Orlando.

Bridges: "The Hump" is the highest point on the Howard Frankland Bridge, which spans Tampa Bay. Radio traffic reports will tell you almost every day that traffic is backed up to The Hump on what is also known as the Frankenstein Bridge, given its propensity for monster traffic jams and lane-blocking accidents.

The other bridges you'll need to know about: the Courtney Campbell Causeway, which Tampa residents take to get to the Clearwater beaches; and the Gandy Bridge, another link between Tampa and St. Petersburg. A series of smaller bridges cross the winding Hillsborough River that surrounds the perimeter of downtown Tampa, its popular island neighborhood of Harbour Island , and the city's Channel District. These bridges provide vehicle and pedestrian traffic easy access to downtown area offices, shops, restaurants, hotels, condos, entertainment venues and museums, as well as nearby University of Tampa just across the river.
Our grandest bridge is the 5.5-mile Sunshine Skyway Bridge, spanning Tampa Bay from Pinellas to Manatee counties. Its gorgeous cable-stayed main span is a signature of our area, by day and night. (It's a toll bridge; you'll want to get a SunPass, an automatic toll reader, so you can whiz right through the booths.)

Highways: "The Vets" is the Veterans Expressway, a toll road that leads from the West Shore area near Tampa International Airport to the northern suburbs. At morning and evening rush hours, it's a slow-rolling parking lot. At off-peak hours, it's a fast way to those suburbs and the counties beyond. The Selmon Expressway, a toll road named after late NFL Hall-of-Famer and Tampa Bay Buccaneer Lee Roy Selmon, weaves through downtown Tampa and provides a potentially faster route for connecting to the Bayshore and South Tampa areas. "Malfunction Junction" is the intersection of I-4 and I-275 in downtown Tampa, traditionally a snarl of vehicles.
A Cuban sandwich is a high point of local cuisine. It's a crusty, flat, rectangular roll spread with yellow mustard, then filled with roast pork, ham, Swiss cheese and dill pickles, sliced thin. (Some people add Genoa salami or lettuce and tomatoes; others consider those fightin' words and insist the original included no such things.) The sandwich is pressed in a grill called a plancha -- never a panini grill! -- until it's hot through and the cheese has melted. It's wrapped in crisp white paper and sliced on the diagonal. Everybody's got a favorite, the place that serves the best, the most traditional. Here are a few worth trying:
Airport Variety Store, 4600 Roosevelt Blvd., Clearwater, opposite the St. Petersburg-Clearwater International Airport, 727-531-7000


Aguila Sandwich Shop, 3200 W. Hillsborough Ave., Tampa, 813-876-4022


Havana Village, 120 N Dale Mabry, 813-872-9049


Capdevila's at La Teresita, 3246 W Columbus Drive, 813-879-9704


Michelle Faedo's on the Go, an award-winning, roaming food truck in Tampa, 813-784-6933

We love shrimp and crab and lots of fish, but we lose our hearts to grouper. Grouper is a sweet, meaty and non-oily fish caught locally. The way we like it best is as a grouper sandwich. You could grill it or blacken it, but why bother? Just go ahead and have it fried, piled on a bun with melted cheese, tomatoes and lettuce. Almost heaven. Everybody's got a favorite grouper restaurant, but a couple that claim bragging rights:

The Hurricane Seafood Restaurant, on the beach at 809 Gulf Way, Historic Pass-a-Grille, 727-360-9558


Dockside Dave's, 14701 Gulf Blvd., Madeira Beach, 727-392-9399, or 7141 Gulf Blvd., St. Pete Beach, 727-360-4200


Frenchy's, four locations on Clearwater Beach and one location in Dunedin:
The Original Cafe, 41 Baymont St., 727-446-3607
Saltwater Cafe, 419 Poinsettia Ave., 727-461-6295
Rockaway Grill, 7 Rockaway St., 727-446-4844
South Beach Cafe, 351 S Gulfview Blvd., 727-446-1522
Outpost Bar & Grill, 466 Causeway Blvd., Dunedin, 727-286-6139

How to do the Stingray Shuffle. These oval, flat sea creatures with long barbed tails like to hide in shallow water under a thin layer of sand to search for prey. If you step on them, they'll react by attacking, using those barbed tails to inject venom into your foot or ankle, causing excruciating pain. The solution: Don't slosh or stomp in shallow water. Instead, shuffle your feet in the sand as you wade. The rays will get the message and will get out of your way. The only cure for the debilitating pain is soaks in hot, soapy water. Lifeguard stations at the beaches can let you know if rays are in the vicinity and can assist if you're stung.