Local Life and Lore in West Palm Beach
From local lingo to how to steer clear of alligators, these tips are a must-read for your trip.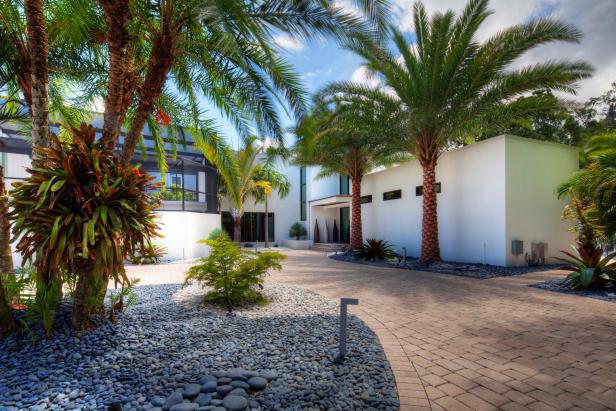 Contemporary Beach House Features Tropical Landscape
Lush palm trees decorate the front entrance to the sleek, contemporary beach home set in Sarasota, Fla.
You'll need to know these terms and phrases to negotiate Palm Beach County and the Treasure Coast without embarrassment.
Lake O, The Lake. Lake Okeechobee, on the western side of Palm Beach and Martin counties. It's the second-largest freshwater lake totally within the boundary of the continental United States, second only to Lake Michigan. The name Okeechobee is from the Hitchiti Indian words oki for water and chubi for big -- in other words, "big water."
Boca. That's BOE-cahh. Boca,' or mouth, often was used by Spaniards to describe an inlet. There is money and culture here, but it also was famously and somewhat unfairly lampooned as a retirement condo mecca and the home of Jerry Seinfeld's parents in the hit TV show. By the way, Raton rhymes with tone, not with baton.
East, west, north and south. Much of Palm Beach County and the Treasure Coast is laid out in grid fashion, given that it's wedged between the Atlantic Ocean to the east and swamps, farms and Lake Okeechobee to the west. So get your bearings and be prepared for locals to tell you to turn "north'' instead of "left.''
The island, the mainland. Local shorthand for communities on the barrier island that runs along most of the area and those across the water to the west.
The Intracoastal. Short for the Intracoastal Waterway, the body of water dredged for navigation that separates the barrier island from the rest of the area and that also, somewhat confusingly, goes by several other names.
The Indian River. Known as North America's most biodiverse estuary, it is the portion of the Intracoastal that runs along most of the Treasure Coast.
Lake Worth Lagoon. Part of the Intracoastal in Palm Beach County that used to be a freshwater swamp before inlets were cut to the ocean.
City of Lake Worth. Finnish and Mayan languages spoken here. After World War II, many modest pensioners -- especially from Quebec, Finland and Germany -- moved to the city and built cottages. These new immigrants brought their culture and customs with them. Incongruous in semitropical South Florida, you still see Finland's flag flying and signs in Finnish. In the past several decades, immigrants from Guatemala moved into some of these cottages and brought such Mayan languages as Kanjobal with them.
Singer Island. Most of this island falls within the municipalities of Riviera Beach or Palm Beach Shores, but residents of this higher-income island often prefer to set themselves apart with this name. Singer Island was named for Paris Eugene Singer, a famous developer of Palm Beach and the 23rd child of Isaac Singer, the sewing machine magnate. Singer had a plan to develop what became his namesake island for tourism, but it went belly up when the Florida boom turned to bust in the late 1920s.
Jupiter, not a planet. People in this city in northern Palm Beach County get very tired of planet jokes. The town originally was named for the Hobe Indian tribe. Mapmakers misinterpreted the spelling used by Spaniards, Jobe, and recorded it as Jove. This was further misinterpreted to mean the Roman god Jupiter, and the name stuck.
Indiantown. This rural community a half-hour west of Stuart hasn't been what its name implies for a long, long time. But it does have an indirect link to British royalty. Seminole Indians who settled in the area in the early 1800s were pushed out during conflicts with the U.S. military in the mid-1830s. In the early 1920s, S. Davies Warfield, a Baltimore financier who was building a railroad to West Palm Beach, saw the community as the southern headquarters of his rail line. As part of his dream, he built the Seminole Inn, which opened in 1927 and remains a historic site. Among those attending the opening was Warfield's niece, Wallis Simpson. British King Edward VIII later would marry Simpson, a twice-divorced American socialite, after having abdicated the throne in 1936. Warfield died in 1927, as did his grand plans for Indiantown.
GETTING ALONG WITH GATORS
Much of the West Palm Beach area has been drained, dredged, diked and engineered into the place it is today, which bears little resemblance to the way it looked hundreds of years ago, when much more of the area was wetlands. But there is still plenty of water, and the once-endangered American alligator has come back strong. The reptiles sometimes end up in places they shouldn't, such as garages or pools. It's important for visitors and residents to learn about these prehistoric beasts: since 1948, more than 275 unprovoked attacks on humans have been documented in Florida, with at least 17 resulting in deaths, according to state wildlife officials. It is possible to coexist with them, however. Natives take it all in stride, watching them from a safe distance at nature preserves, rooting for the (frequently national champion) Florida Gators and feasting on fresh fried gator tail from alligators harvested under state license.
Near any body of fresh or brackish water, including canals and ponds, assume that there are alligators in the vicinity. Never let small children or pets play by themselves near fresh or brackish water. Be alert.
Never, ever feed the gators. Their primitive brains can easily start to associate people with food. It's illegal, too.
Fido is a favorite snack of alligators. Dogs are more susceptible to being attacked than humans because they resemble the natural prey of alligators.
Do not swim outside of posted swimming areas or in waters that might be inhabited by large alligators. Swim during the day: gators are most active at dawn and dusk.
Gators rarely grow beyond 14 feet or more than 1,000 pounds in the wild. But all alligators, even the small ones, are dangerous.
A death roll is what gators do to kill their prey once they snatch it.
Seek immediate medical attention if bitten by an alligator. Alligator bites often result in serious infection.
A good place to see alligators safely is the Arthur R. Marshall Loxahatchee National Wildlife Refuge, seven miles west of Boynton Beach. Go to U.S. 441 and two miles south of Boynton Beach Boulevard, turn west onto Lee Road.