Grab a snack, a drink, a dance. Here, the best spots in town.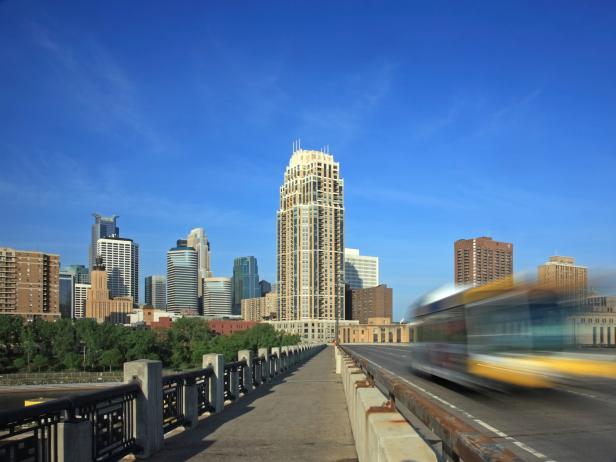 Bus in Minneapolis
Minneapolis' Metro Transit system features both bus and light-rail services, but what makes this city's transit system stand out is its winter accommodations. "In the winter, some bus stations are indoors, feature heat lamps and have displays for estimated bus arrival times," says rider and Hennepin County Commissioner Jan Callison.
©iStockphoto.com/nikitsin
Food and Drink Essentials
Lunds
Two locations
Though locals might grouse about the prices, Lunds' top-notch produce, meat and bakery sections keep people coming back. Even sweeter is the free bagging and carryout service that the stores offer, and no tips are accepted.
Minneapolis Farmer's Market
On weekends, the bustling farmers' market on Lyndale Avenue features hundreds of vendors hawking fresh sweet corn, luscious homegrown tomatoes, and salsa. You'll even find shoppers munching on spicy brats as early as 7 a.m. On weekdays, the market moves to Nicollet Mall, where workers come down from the skyscrapers to scoop up fresh flowers and produce.
Lucia's To Go
1432 West 31st St.
612-825-9800
Fresh, local ingredients are the hallmark of this tiny bakery, where you'll find homemade squash soup, tasty flax millet bread and unbeatable chocolate sea-salt cookies. Many of its customers stop by several times a week to pick up to-go meals from its ever-changing menu.
Chino Latino
2916 Hennepin Ave. S.
612-824-7878
The food is spicy, the drinks are strong, and the atmosphere is lively at Chino Latino. Favorite desserts include the s'mores platter, where you can toast your own marshmallows at the table. A late-night happy hour includes $1 tacos and $3 "French toast of the dead."
La Belle Vie
510 Groveland Ave.
612-874-6440
For anniversaries and other milestones, La Belle Vie is a restaurant that has long earned top marks. Its elegant dining room, flawless service and popular French/Mediterranean menu have been highly praised by critics. The eight-course tasting menu is a worthwhile wallet-buster for the big night out.
Urban Bean
3255 Bryant Ave. S
612-824-6611
You can't throw a stone without hitting a coffee shop in Uptown, but the Urban Bean is arguably the neighborhood's best spot. The shop offers free dog treats for those who bring Fido, and the pleasant, sunny space is the perfect spot to bring a laptop or a book.
Shuang Hur
2710 Nicollet Ave.
612-872-8606
Shuang Hur is the most comprehensive market for all your Chinese, Japanese, Thai and Vietnamese cooking. You'll find good, inexpensive produce and almost any hard-to-find ingredient you need for your cooking projects.
Herkimer Pub & Brewery
2922 Lyndale Ave S.
612-821-0101
Locals settle into this cozy bar and restaurant to savor the Herkimer's own German-style brews and munch on favorites including grilled cheese fondue, sweet potato fries and mini burgers. Score a seat by the shuffleboard table and you and your friends can test your skills at the surprisingly addictive game.
Bryant Lake Bowl
810 W. Lake St.
612-825-3737
It's hard to be bored at Bryant Lake Bowl. Before you lace up your shoes at this hip, 8-lane bowling alley in the heart of Uptown, check out the musical acts and performances in the small theater or have a meal with organic, locally sourced ingredients. Affordable and fun, there's a reason there's almost always a packed house here.
Chambers Hotel
901 Hennepin Ave.
612-767-6900
Everything seems to shimmer in this see-and-be seen bar and lounge in downtown Minneapolis. After a show, audience members swarm to Chambers to sip on signature drinks including ginger margaritas and vodka thyme lemonades. On warm summer nights, the best place to be is right next door in the courtyard, soaking up the warmth.
Dakota Jazz Club and Restaurant
1010 Nicollet Ave.
612-332-1010
The Dakota brings in some of the best jazz acts in the nation, but the music isn't the only thing that will have you swooning. The restaurant's impeccable service and imaginative, ever-changing menu makes it a favorite for special occasions.
Chatterbox Pub
Three locations
The first menu you'll get at the Chatterbox is what you might expect -- a slate of offerings including pub burgers on house-made foccacia bread and pizzas made with crispy Italian flatbreads. The second menu is list of board games and card games, including Battleship, Uno and Operation, that diners can play as they wait for their meals. Old-school video game systems are scattered around the restaurants, and diners can test their skills at Super Mario Bros. or Asteroids.
Nye's Polonaise
112 E. Hennepin Ave.
612-379-2021
Dance clubs come and go in this town, but Minneapolis residents can't get enough of the polka dancing at Nye's, where everyone joins in when the band starts up a rendition of "Roll Out the Barrel." The piano bar, lounge, and upbeat atmosphere were among the highlights that prompted Esquire to dub Nye's "The Best Bar in America."
Upper deck at the Minnesota Twins Hubert H. Humphrey Metrodome
Minneapolis is a home to three professional sports teams -- baseball's Twins, football's Vikings and basketball's Timberwolves. For our money, there's no better deal than the Twins, where $7 will buy you an upper-deck seat to cheer on a team that's a perennial contender in its division.
Barbette
612-827-5710
1600 W. Lake St.
This restaurant is just a few minutes' walk from the Lake of the Isles dog park and it has long welcomed pooches on its patio. Owners, meanwhile, can indulge in Barbette's justifiably praised crepes and sandwiches.
First Avenue
701 First Ave. N.
612-332-1775
Hometown hero Prince used First Ave as a setting for his movie, Purple Rain, and the venue continues to attract some of the hottest bands across the nation. It's also been the starting point for virtually every Minnesota band that's made it big, from Prince and Soul Asylum to Semisonic. You won't miss the iconic building when you walk past; the large silver stars that adorn the building are each filled in with the name of a band that has graced the stage.
Linden Hills
The thriving retail hub of this neighborhood offers a lot to love: The Bibelot and Victoria offer new, antique and repurposed home decor. And while you're strolling along the streets, be sure to stop in at Wild Rumpus, a whimsical children's bookstore that's got a couple cats and even a chicken roaming the stacks.
Minneapolis Institute of Arts
2400 Third Ave. S.
888-642-2787
One of the best (and largest) museums in the city, the Minneapolis Institute of Arts is sure to have something to please everyone, whether it's ancient Egyptian amulets or modern photography. There are frequent free, kid-pleasing activities, and on many weekends, you can sit and enjoy free live music.
The Bakken Library and Museum
3537 Zenith Ave. S.
612-926-3878
A plethora of hands-on exhibits in this museum about electricity and energy set the Bakken apart from others. Kids can create songs timed to their own heart's rhythm, generate a 60,000-volt spark, and test out attraction in the magnet play area.
Chain of Lakes
Minneapolis may not be known for its mild temperatures, but there's no question that its residents know how to appreciate the outdoors, no matter what the season. The Chain of Lakes, a series of four interconnected lakes (Cedar, Isles, Calhoun and Harriet) in the southwest part of the city, is a destination in every season: Joggers and cyclists make their way around a 10-mile loop, and families paddle along the shores in canoes and kayaks. In the winter, the city clears off a skating rink on Lake of the Isles.
Southwest side of Lake Calhoun
Painters gather along the southwest edge of Lake Calhoun to capture Minneapolis' glittering skyline, which serves as a backdrop to the sailboats that glide silently through Calhoun's waters. Tourist and cyclists can't help but take a break to gawk at the perfect merging of the natural and man-made.