Old Fourth Ward Apartments and Real Estate
If you have your eyes on Old Fourth Ward for your new address, you have a range of options, from loft apartments to restored Victorian homes.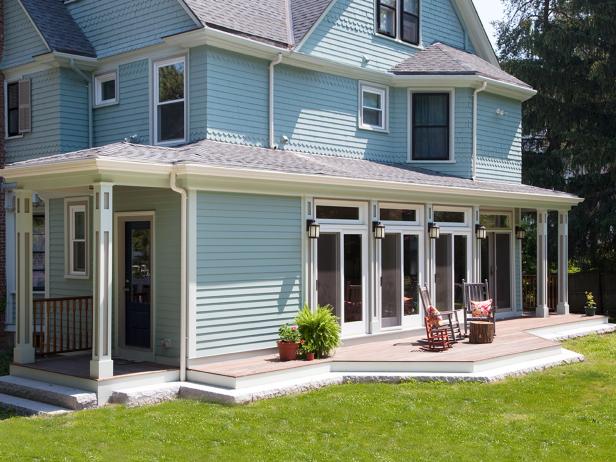 Blue Victorian Home Exterior with Contemporary Touches
Victorian houses much like this one are common in the Old Fourth Ward neighborhood of Atlanta.

Scripps Networks
Victorian houses much like this one are common in the Old Fourth Ward neighborhood of Atlanta.

An Old Fourth Ward address will put you in the thick of a bustling community, with shops, restaurants and entertainment within walking distance, plus easy access to interstate highways. History meets urban renewal here, with myriad new properties, as well as historic homes and renovated properties for rent or purchase.
You may be able to find a small bungalow with two bedrooms, for around $700 per month rent. But for most properties, expect to pay at least $1,000. A higher price tag will get you an apartment or condominium with a lion's share of amenities, including a swimming pool, fitness center and a club house. Most apartment complexes are a short distance away from an interstate or MARTA station.
Montage, a large complex located on Dekalb Avenue in Old Fourth Ward, offers nearly 20 floor plans in one- and two-bedroom designs. Rents range from around $1,000 to $1,300. Amenities include a media room, coffee bar, fitness center and resort-style pool.
AMLI Old 4th Ward, part of the national AMLI apartment rental company, has a large luxury complex next to the Ponce City Market. Rent at AMLI Old 4th Ward ranges from about $1,400 for a one-bedroom apartment to just under $1,700 for a two-bedroom, with a range of floor plans to choose from in each size. Amenities include a swimming pool with lap lane, covered garage parking, a fitness center, a media room, and outdoor entertaining areas.
Other larger apartment complexes include BOHO4W on Wilmer Street, Highland Walk on North Avenue and Auburn Glenn, a mid-rise redevelopment project that mixes apartment living and retail.
For a live-work-play experience, look at Studioplex on Auburn Avenue. A former cotton warehouse, Studioplex has been redeveloped into 130 loft homes feature 12-foot to 18-foot ceilings. Amenities include a fitness center and controlled access parking. The lofts are generally for sale, (prices start around $120,000), with some units occasionally available for rent.
You can also sometimes find a condominium for rent in one of Old Fourth Ward's other condo communities, including City Heights on Ralph McGill Boulevard and City View Condos on Highland.
Within the next year, Ponce City Market is expected to provide a new setting in which people can live, work and shop in one venue. The largest redevelopment in Atlanta's history, this 1.1 million square-foot historic landmark, formerly used by Sears and Roebuck Co. and the city of Atlanta, will include rental flats, as well as shops and restaurants. Ponce City Market is expected to be open in 2014.
If you're looking to purchase your home, you'll find a wide range of options and prices. In addition to condominiums, there are single-family homes available, including newly built "starter" bungalow-style homes for around $250,000. You can own a gorgeous piece of restored history for around $300,000 and up.