Old Fourth Ward: Things to Do
Whether you live in the neighborhood or not, Old Fourth Ward offers a wide range of activities, from outdoor events for the entire family to trendy night spots.
Teeming with activity, Atlanta's Old Fourth Ward neighborhood has become one of the city's most sought-after addresses. And it's no wonder: A wide range of restaurants, bars, shops and entertainment are just steps away from most homes or apartments. If you're looking for nightlife, art galleries or a place to have a picnic or go jogging, Old Fourth Ward has it.
This historic neighborhood—the birthplace of Martin Luther King Jr.—has an abundance of park space. Historic Old Fourth Ward Park is located behind the neighborhood's largest development endeavor, Ponce City Market, and stretches south 17 acres to Freedom Parkway and the Carter Center. An award-winning urban renewal project, the park's features include an amphitheater, a playground and splash pad for children of all ages, and a retention pond with natural vegetation preserved by the Historic Fourth Ward Park Conservancy. Each June, the park hosts the Old Fourth Ward Park Arts Festival, which brings together art, food and entertainment celebrating the area's culture. The Historic Fourth Ward Skatepark, Atlanta's first public skate park, accommodates skaters of all skill levels and includes a playground and athletic field.
Old Fourth Ward is also home to a portion of Freedom Park, a 200-acre park flanking the Freedom Parkway connector road. The park features gardens, outdoor art, and the 5.5-mile Freedom Park Trail, and connects Old Fourth Ward to some of Atlanta's other neighborhoods.
One of Old Fourth Ward's biggest draws is, of course, its nightlife. Restaurants abound, and no matter what type of food you're looking for, you're sure to find an eatery that suits your culinary tastes. Choose from traditional meat-and-three diners such as Mary Mac's Tea Room, Thumbs Up Diner and Gladys Knight's Chicken and Waffles, or more upscale restaurants including Highland Bakery, Serpas True Food, or 4th and Swift. You'll also find plenty of international choices, including Cuban/Caribbean, Japanese, Greek and Italian. And you won't be left wanting if you're looking for pizza.
After dinner, of course, comes night life. Old Fourth Ward offers a wide range of venues, from upscale coffee shops to martini bars to dance clubs. You can unwind with friends with tapas and wine at the Krog Bar, or hang out with the hipsters at The Bookhouse Pub. For a diverse crowd, check out Model T and Friends on Ponce, or dance the night away at The Sound Table and MJQ Concourse. If live music is your thing, check out Two Urban Licks, The Drunken Unicorn or Masquerade, which hosts the outdoor concert, One MusicFest, each year.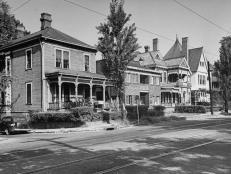 Ride down Memory Lane with us and see what Atlanta's streetcars and neighborhoods looked like in 1944.