Profile: Denver, Colorado
Get a quick view of the Mile High City's geography, business environment and activities.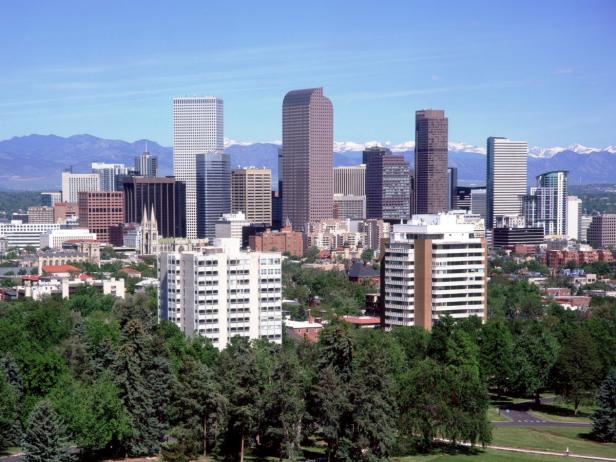 The Denver Skyline
A vibrant Colorado city home to a thriving arts community, innovative restaurants, seven professional sports teams and an abundance of outdoor recreation areas, Denver offers something for everyone. The city's diverse assortment of neighborhoods ranges from hip historic districts to family-friendly suburbs.
Major Airport: Denver International Airport
Companies with a Major Presence: EchoStar Communications Technologies, Qwest, Frontier Airlines, Lockheed Martin, HealthONE, IBM, Wal-Mart, Safeway, United Airlines, University of Denver, Exempla Healthcare.
Denver, known as The Mile High City because it sits at an altitude of 5,280 feet, has a vibrant culture, historic neighborhoods, a dynamic restaurant scene, teams representing all of the major sports and the beautiful, gold-domed state capitol. It also offers easy access to mountains, alpine meadows, hiking trails and some of the best ski slopes in the world.
The city was founded in 1858 during the Pikes Peak Gold Rush, and the city and county of Denver now have nearly 600,000 residents living in 155 square miles.
Denver's a bit out of the way. The nearest major cities are all daylong drives. But its international airport makes Denver more accessible by air. The city's relative isolation has its benefits. Because the region isn't dense with major cities, the land outside the city remains largely untouched, which is a big attraction to life in Denver.
Still, many locals rarely leave the city. There's too much to do, and the living comes easy. Denver has more park space than any other city in America, mountain views, a great zoo, an engaging nature and science museum, world-class art museum and a thriving downtown. The city is a patchwork of neighborhoods that are alternately funky, country clubby, ethnic and Brady Bunch-esque. On top of that, Denver can boast that it has more than 300 days of sunshine a year. What's not to love?