Profile: Minneapolis, Minnesota
Study up on Minneapolis's economy, history, and more.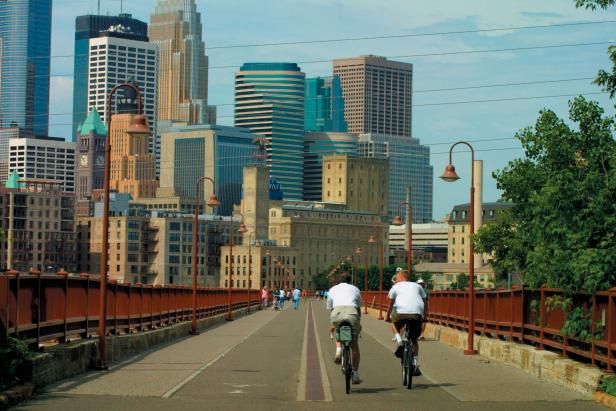 Cyclists in Minneapolis
Minnesota's cycling scene ranges from slow rides in the summertime to blizzard battles in the winter. Minnesotans welcome the cold-weather challenge, as Minneapolis' bike scene is flourishing. The city boasts the most bike parking available per capita in the country. The U.S. Census Bureau ranks the city number two for its percentage of commuters who bike to work, ringing in at 3.8 percent of its population.
Population: 372,800 (city), 3 million (metro)
Major Airport: Minneapolis-St Paul International Airport
Companies With a Major Presence Here: Target, 3M, Medtronic, Xcel Energy, General Mills, Cargill, Northwest Airlines, University of Minnesota, U.S. Bancorp, Ameriprise Financial, Fairview University Medical Center, Methodist Hospital, Thayer/Hidden Creek
The frigid winter weather may scare off less hardy souls, but the people who make Minneapolis home know there's a lot to love about this city.
Minneapolis, which celebrated its 150th birthday in 2008, got its start as a small flour-milling town, for which it earned the nickname Mill City. As the town developed, so did its acclaimed park system, the home campus of the University of Minnesota and its bustling downtown. When the flour milling industry wound down, other industries -- most notably medical technologies and banking and finance -- sprung up to take its place.
While Minneapolis and its Twin City across the Mississippi River, St. Paul, are often considered one and the same by outsiders, locals know that they have distinctly different vibes: St. Paul, the state's capital, is a bit more compact and quiet. Minneapolis is the slightly younger, cooler city.
Minneapolis residents are avid sports fans -- several pro teams call the town home, including MLB's Minnesota Twins, the NFL's Minnesota Vikings, the NBA's Minnesota Timberwolves and the Minnesota Lynx of women's basketball. The University of Minnesota teams, which compete in the Big Ten conference, also draw wide support. On game days, fans clad in maroon and gold swarm around campus.
But above all, Minneapolis is known for its thriving arts and cultural scene: the Guthrie Theater, the Walker Art Center and the Minneapolis Institute of Arts are all highly esteemed. Music fans clamor to get into the uber-hip First Avenue. Architectural gems like the Frank Gehry-designed Weisman Art Museum and the Cesar Pelli-designed Central Library leave even the most stoic Minnesotan gawking.
Strong support for public schools and a diverse array of job opportunities are hallmarks of Minneapolis. They're also why polls and surveys consistently rank Minneapolis as one of the best places to live, work and raise a family.