Raleigh: Like No Place Else
Find out what makes Raleigh's residents love their city.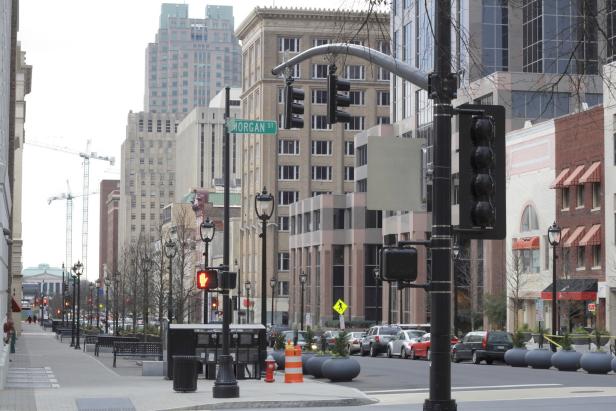 Downtown Raleigh, North Carolina
North Carolina's Research Triangle – made up of Raleigh, Durham and Chapel Hill – often receives accolades for its quality of life, strong economy and excellent education system. With three nearby universities, there are many opportunities for jobs in education, as well as manufacturing, aerospace, biotechnology and green energy.
Maria Grushevskaya/iStock/Thinkstock
Raleigh has its own subtle brand of awesome that is built on a foundation of simple things that make it an easy place to live and, for many, a hard place to leave. Among the reasons:
Entertainment. There's plenty to do, and you can do it on a whim: As Raleigh has grown, so too have its entertainment options. For instance, the Carolina Ballet has been a magnet for accomplished choreographers, and the city got its first professional sports team, the Carolina Hurricanes of the National Hockey League, in the late 1990s.
Compared to bigger cities, tickets to events are generally easy to come by -- except for college hoops. And getting to and from games and shows is relatively easy. Take a typical Carolina Hurricanes game for instance. One can leave downtown, drive to the RBC Center (the Hurricanes' West Raleigh arena), park, buy a ticket a beer and peanuts and sit down within 25 minutes.
In fact getting most places is pretty easy. There's ample parking -- even in Raleigh's downtown. Restaurants are busy, but rarely booked up. Most importantly, traffic's not that bad -- yet. Sure people might complain about a little rush-hour congestion on Interstate 40. But it's nothing compared to the gridlock found in most major cities. The fact that anybody complains about traffic in Raleigh is proof of how good they have it here. But the city is growing, and roads are bound to tighten up.
Good City Parks. Raleigh is blessed with moderate climate and lots of sunshine, making it an ideal place for those who love the outdoors. And the city has done well by offering an array of outdoor recreation programs and facilities.
The city maintains a network of about 54 miles of biking and hiking trails. Many of them wind through wooded areas, connecting city parks or hugging Raleigh's three major lakes.
The city also maintains softball fields, basketball courts and a surprising tennis program, which offers 112 public courts throughout the city. At the Millbrook Exchange Tennis Center, residents can take lessons or classes, or join a city-managed league.
Raleigh also maintains several popular off-leash dog parks, including one that is lit until 10 pm.
College Basketball. The Triangle is home to one of the world's most heated college sports showdowns: The three-way basketball rivalry between the University of North Carolina at Chapel Hill, Duke University in Durham and N.C. State University in Raleigh.
All have been national contenders: UNC is the winner of four national NCAA Division I basketball titles; Duke has three titles and N.C. State has two.
Indeed, Raleigh's contender has lagged in recent years. Duke and UNC won titles in the 2000s; N.C. State hasn't won since 1983.
But the rivalry between the schools remains spirited nonetheless, and so much so that it can divide workplaces and neighborhoods, which are often mixed with alumni from all three schools.
If you're a newcomer and didn't attend any of the schools, it's best to remain impartial, study up and watch the season unfold.
Tourist Spots. Raleigh may be stretching it when it calls itself the "Smithsonian of the South," but the city does feature almost two dozen museums and other historical tourist attractions. Being the state capital, there are, of course, a bunch of museums focused on Tar Heel history. But many offer exhibits that bring some national cred.
The North Carolina Museum of Art, for instance, features works spanning 5,000 years, including originals from Renaissance master Raphael to Georgia O'Keeffe. The museum grounds also offer an expansive park with massive sculptures.
Beyond museums, the city is replete with buildings of national significance. Leonard Hall is the site of the country's first four-year medical school for black students. It's on the campus of Shaw University, which was founded in 1865 as the nation's first historically black college.
Mordecai Historic Park offers tours of an antebellum plantation mansion. The park also features the birthplace of Andrew Johnson, the 17th U.S. president.
And don't forget to check out the shimmer wall on the McDowell Street side of Raleigh's convention center. The LED-backlit mosaic features tens of thousands of multicolored aluminum pieces that make the image of an oak tree to honor Raleigh's nickname "the City of Oaks."