This Atlanta neighborhood offers apartments, condos and single-family homes.
Like many urban neighborhoods in Atlanta and across the U.S., former factories and warehouses are being converted into loft condominiums and apartments for residents who want the convenience of living downtown. And while Reynoldstown still has a good number of affordable single-family homes, many young professionals and couples like the no-maintenance lifestyle of a condo or apartment.
The Lofts at Reynoldstown Crossing on Memorial Drive S.E. are located in a renovated motorcycle parts distribution warehouse dating back to the early 1900s. The mid-rise loft community has 30 two-bedroom units with a variety of floor plans featuring hardwood floors and floor-to-ceiling windows. Common amenities including controlled access, a club room, swimming pool, fitness center and hot tub. Designed to be an affordable community, the lofts start at around $155,000, with some of the building's first buyers qualifying for down payment assistance.
The A&P Lofts on Memorial is another development where you can own a piece of history. This five-story, 1903s-era building, which is on the Georgia Register of Historic Places, formerly housed an A&P grocery chain bakery and warehouse. It has about 60 units in varying sizes and price ranges. One-bedrooms start at about $100,000, and a penthouse suite lists for around $300,000. Amenities include a fitness center, controlled access and a rooftop deck. Views of the city skyline are visible from many of the units.
Reynoldstown Square Townhomes are located at Krog and Wylie streets, at the site of the former Dry Ice Factory. The community has two-story townhomes and single-floor flats. One- and two-bedroom units list for about between $70,000 and $180,000.
If you're looking for an apartment, there are a few complexes in Reynoldstown. Station Square on Seaboard Avenue has two-bedroom, one-bathroom apartments starting at just under $700 per month. Amenities include on-site laundry, off-street parking and a grill area. You can also look at nearby neighborhoods Ormewood Park, Cabbagetown and Inman Park.
In addition to apartments, home rentals can be found for less than $1,000 per month. Many of these will be smaller, duplex and triplex units. Single-family homes rent for $1,000 and up.
If you are looking to purchase a single-family home, you will find a wide range of prices. Many cottages, bungalows and shotgun houses have been extensively renovated, with additions and state-of-the-art kitchens. Prices for an updated home are generally listed between $200,000 and $300,000. You can also find homes for around $100,000, but those will typically need updating and repairs.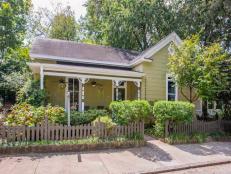 This emerging neighborhood has a deep history and tight-knit community.