Reynoldstown, Atlanta: What It's Like to Live Here
This emerging neighborhood has a deep history and tight-knit community.
Historic Reynoldstown, nestled east of downtown Atlanta next to Cabbagetown Park, is one of several neighborhoods that have attracted hip, young adults for its access to big-city life. And while it may still be considered by some to be "up-and-coming," its active neighborhood association and restoration projects are setting it on the path to join neighboring communities such as Inman Park and Virginia Highland in its popularity.
Reynoldstown is listed on the U.S. National Register of Historic Places. It was named after Isaiah Reynolds and his wife, Sarah, one of many freed slaves who settled there after the Civil War and worked for the railroad. The city of Atlanta annexed the neighborhood in 1909.
After the railroad closed in the 1950s, Reynoldstown declined. Gentrification of the neighborhood started in the 1990s and continues. It attracts residents interested in the neighborhood's architecture—much of which has remained intact over the decades—and its tight-knit community feel.
Reynoldstown today is a pedestrian-friendly neighborhood located near the BeltLine, with an eclectic mix of local businesses. Residents enjoy morning walks to ParkGrounds Atlanta on Flat Shoals Avenue for coffee, baked goods and a place to chat with neighbors (dogs are welcome, too). Or they grab breakfast or lunch at Homegrown on Memorial Drive for pot roast, po boys, vegan sloppy Joes or classic breakfast foods. For dinner, Sunday brunch or drinks, H. Harper Station on Memorial Drive is a favorite.
WonderRoot, a nonprofit arts and services organization based in Reynoldstown, offers production facilities to Atlanta-based artists. The group also coordinates arts-based service projects, including youth programs, professional development workshops and campaigns working for positive social change. Local artists sell their paintings and sculptures at dooGallery, whose mission is to make art affordable to all, while giving artists and opportunity to earn a living at their craft.
The community is also the home of several historic landmarks, including the Trees Atlanta Headquarters and Nursery, Colgate Mattress Factory and the Atlanta West Point Railroad Depot.
Every September, residents and visitors gather for the Wheelbarrow Festival, which opens with a 5K run through the Reynoldstown and Cabbagetown neighborhoods and is followed by live music, art, food trucks and dozens of vendors. Festivities include a wheelbarrow "art hunt," a scavenger hunt that has participants searching for art "treasures" from among various local galleries, with the hunt ending in a secret location.
The Reynoldstown Civic Improvement League, originally formed in 1952 to help foster political action in the African-American community, today coordinates events such as the Wheelbarrow Festival and organizes neighborhood improvement projects.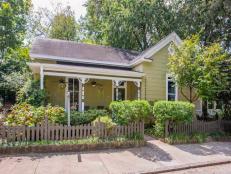 This Atlanta neighborhood offers apartments, condos and single-family homes.