Roswell Apartments and Rentals
The city of Roswell is a family-friendly town north of Atlanta with great public schools and lots of outdoor activities.
Located about 20 miles north of downtown Atlanta, Roswell, Georgia enjoys more than its fair share of outdoor activities, superior public schools and lots of yearly festivals and family fun. This makes Roswell a very desirable place to relocate or raise a family. Single-family homes start at about $250,000 and can go upwards of $1 million in price. Condo prices start at about $60,000. In terms of renting, an apartment or condo rents for about $900 a month on average.
Those looking to rent an apartment, a condominium or a single-family home will find that the monthly prices can be incredibly reasonable but often there is a dearth of inventory. The good news is that many rental properties offer ample square footage, amenities such as pools and tennis courts, and the city itself offers so many outdoor activities that you may not mind renting a smaller home.
Keep in mind that most apartments and condos in the Atlanta Roswell area will reflect an '80s architectural style. This means a lot of cedar wood and slanted popcorn ceilings.
We have found that many of them are pet-friendly as well, such as Park 83 apartments. Most of the units have been recently updated with granite countertops, energy-efficient appliances, and almost unheard-of hardwood flooring. They also have many three-bedroom units that start at about $1,300 a month.
These Roswell apartments are certainly not lacking when it comes to amenities. The homes have controlled access entry, a large pool, four resurfaced tennis courts, two dog parks, a playground, a 2-mile nature trail, a renovated clubhouse and a really cool screened-in picnic area with an outdoor fireplace. Park 83 is also close to the Chattahoochee River, the Country Club of Roswell and the East Roswell Recreation Center.
Belcourt Apartments are also pet-friendly and reasonably priced though they have not been updated like the Park 83 apartments.
For those seeking a single-family home for rent, we suggest spending a day driving around Roswell. We have found that many homes will just display a for rent sign in their yard. Others can be found on websites such as Craigslist–not what we typically recommend, but our search produced some good results. There are a few executive-type homes for rent in Roswell with prices starting at about $2,000 per month. Older homes can also be found and typically sit on large wooded lots and start at about $1,200 per month.
If your Roswell apartment search leaves you wanting, we suggest expanding your search to neighboring cities such as Sandy Springs, Alpharetta, Woodstock and Canton.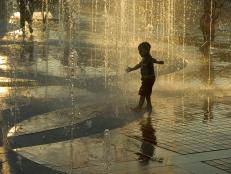 Roswell, Ga. is popular among families seeking outdoor activities and fine public schools.