Safest Neighborhoods in Atlanta
Atlanta gets a bum rap for its bad crime statistics, but there are plenty of safe neighborhoods.
Atlanta has a wide variety of safe neighborhoods in spite of its reputation as a dangerous place, one that often turns up in the national Top 10 of cities with the highest crime rates. Those crime rankings emphasize violent crime and it's a fact that most of the violent crimes take place in the city's poorest neighborhoods. If you're looking for Atlanta's safest neighborhoods, those neighborhoods are also usually the city's most prosperous neighborhoods.
It should come as no surprise that the northwest section of the city might be its safest. Vinings and the adjacent West Paces Ferry, West Wesley and Northside Drive areas of Buckhead feature some of the city's most opulent homes in rambling neighborhoods with huge lots.
Folks who can't quite afford a big-ticket mansion in Buckhead or Vinings might want to check out the Druid Hills neighborhood north of Ponce de Leon Blvd. and east of Briarcliff Ave near Emory University. The homes aren't quite as sprawling, and there are several condominiums and apartment complexes mixed in with the single-family homes. The adjacent Morningside/Virginia Highlands neighborhoods are also among the city's safest; they also feature easy access to the city's most popular restaurants along North Highland Blvd. north of Ponce de Leon Ave.
The neighborhoods off Peachtree Road just north of Phipps Plaza and Lenox Square Mall feature large single-family homes. They're also considered to be safe areas and share the low crime statistics that show up in the city's most affluent neighborhoods.
Central Buckhead features a wide variety of shopping, restaurants and nightlife alongside some of the city's prime apartment and condominium properties. After the city cracked down on a budding nightlife scene about a decade ago, the neighborhood's crime statistics have dropped, and the ongoing Streets of Buckhead mixed-use development looks to improve the neighborhood even more. The area has long enjoyed a reputation as one of the safest for young people just starting out in the city.
East Atlanta has a reputation (mostly deserved) as a neighborhood with crime issues, but homeowners who cross over to the west side of Moreland Ave to the Ormewood Park and Beulah Heights areas will discover neighborhoods with the city's best combinations of affordable home prices and low crime statistics. Located just to the east of Grant Park and south of Glenwood Ave, the neighborhood also features a stretch of the Atlanta Beltline that's slated for development; it's expected to match the recently opened parks in the Old Fourth Ward.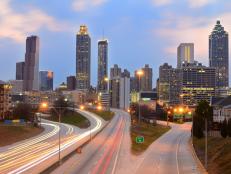 Whether you have a family of six or require a table for one, Atlanta has the right home for you.