Sandy Springs, GA: Apartments and Real Estate
You'll find an abundance of rental options in Sandy Springs, Ga., and it is a good neighborhood for the everyday commuter.
If you are apartment hunting in Sandy Springs, Georgia, you are in luck. Because there are so many large corporate offices in the area, such as IBM, Cisco Systems, UPS, and AT&T, as well as numerous hospitals such as Northside, Sandy Springs real estate offers many options. And due to demand for apartments in Sandy Springs, the prices per square foot and amenities you'll get can be quite competitive. For example, we found that a one-bedroom apartment in a nice area of Sandy Springs will start at about $800 a month. Of course when you start looking into the luxury facilities those prices can skyrocket to $3,000 per month.
There are independently owned condos and townhomes for rent throughout Sandy Springs as well. We also came across several single-family homes for rent with prices starting at about $2,500 per month. There are also many options when it comes to furnished corporate condos that start at around $1,800 per month.
Depending on your needs, whether you are a single corporate raider or relocating to the area with family in tow, you're sure to find something suitable in Sandy Springs. Even though it is near a MARTA station and buses and do run in the area, the community is very car-centric. Most people who use the MARTA trains will park at a commuter lot and take the train into Midtown and downtown.
The apartment complex, Parc at Perimeter, is a good option for the commuter. It is located near two major freeways, banks, restaurants and the big shopping malls. The complex appears to be surprisingly green in spite of its more urban location. It is also dog friendly and has a dog park, a fitness center, a nice-sized pool and storage facilities. The prices start at about $1,000 per month and top out at about $1,500.
The Colonial Grand at Mount Vernon is also near the freeways and has all the aforementioned community amenities. We like the verandas, the tennis courts and the garden soaking tubs and dressing rooms in the sizable bathrooms. There is also a full-size washer and dryer included in your unit. The floor plans and pricing are readily available on their website. The apartments are also quite large: The one-bedroom starts at 900 square feet.
At the top end of the price range is the Gables Metropolitan, which is technically in Dunnwoody but right on the Sandy Springs border. We like that they offer creative lease options such as a three-month lease and an 18-month lease, something we rarely see in the rental game.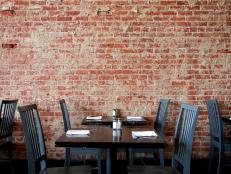 You may find the diverse cuisine options in Sandy Springs surprising. We find them delicious.