Stapleton: A Model Community
This growing Denver neighborhood thrives on a shared vision of conservation and sustainability.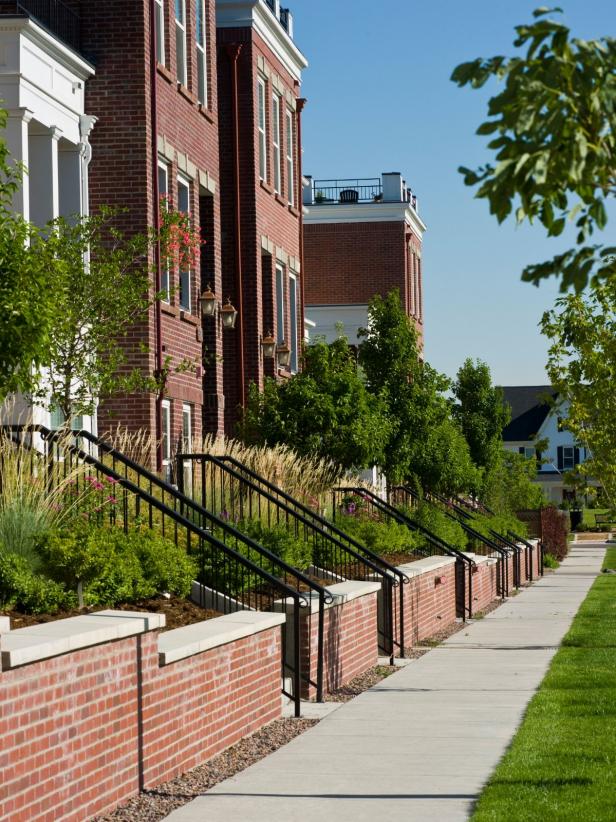 Diverse Housing Options: Stapleton Attractions and Housing
Stapleton offers housing in a wide range of styles and price points, including affordable single-family homes, townhouses, condominiums and custom urban estates. This broad selection is meant to unite people from different backgrounds, incomes and life stages, creating a dynamic, integrated community.
If it wasn't for the old airport control tower and a few building remnants of the past, no one would guess that Denver's Stapleton neighborhood was the site of the city's primary airport from 1929 to 1995. Now home to more than 74,000 residents, Stapleton is setting a precedent for "new urbanism" in Denver and beyond.
In its heyday as an airport, Frontier, Continental and United all operated major hubs out of Stapleton. When the airport closed, it had six runways and five terminals. Those runways were painted with large yellow X's to redirect planes from overhead to the new airport, Denver International Airport located 20 minutes east.
In 1990, five years before the airport closed, the Stapleton Redevelopment Foundation convened and began planning how to reuse the land. The group was started by Sam Gary, a Denver business community professional who is known for ushering the new concept of Stapleton's 7.5 acres from planning to a city vote.
Residents and visionaries got creative with all that space. Removing garages from the front of homes, selecting 20 builders and having energy-star rated homes were some of the ideas that are now community staples. Most noticeable about the neighborhood is the variety of architecture — commercial and residential. Each builder had to bring three different models to each block and, before anyone could move in, land remediation had to take place.
From its airport beginnings, Stapleton has been reimagined and redeveloped into a new type of community — one driven by its residents. Forest City, the master developer selected by the city of Denver to implement the development plan, coins the young, visionary community as a "Neo-Urban Lifestyle." This means mixing the best of the urban with the best of the suburban: convenient, accessible and cultured along with safety, outdoor space and a clean, family community.
In practice, it means Stapleton's the kind of place where neighbors come together to buy (not rent) a jumping castle for their kids — passing it around for block parties and birthdays, of which there are many due to nearly a quarter of the children under the age of five. It means 30 percent of the space would be reclaimed into open green space, parks and nature preserve. And, town centers with grocery stores, restaurants and retail would crop up next to apartments, single-family houses, income-qualified housing and row homes, making for a walkable, diverse community. Not to mention weekly summer movie nights on Founders Green, organized block parties, farmer's markets and a myriad of seasonal events planned by Forest City.
Stapleton has redeveloped into a resident-driven community and focuses on an urban/suburban mix.

Stapleton attracts — and caters to — active lifestyles with biking, hiking and swimming being top interests, according to the survey. Stapleton has public pools, recreation centers and bike paths that connect throughout the parks. Residents are not only active physically, but also in defining what they want their community to become, paying attention to what's going on in the neighborhood, from traffic to crime.
While the very first rental building was for senior living, one of the biggest challenges was building schools fast enough to catch up to Stapleton's under-five age bubble. But it looks like those who move to Stapleton are here to stay: Over 30 percent of Stapleton's new home sales in 2009 came from existing Stapleton residents who, instead of moving out, decided simply to move up within their community.
When Stapleton's development is complete, it is projected to have 12,000 homes and apartments, 8,000 homes for sale and 4,000 rentals, two walkable town centers and a major retail destination (and homes) in Northfield, north of interstate 70, which divides north and south Stapleton.