Stowe, Vermont Real Estate: Neighborhoods to Know
Explore top neighborhoods in Stowe, with relocation information, real-estate listings and more.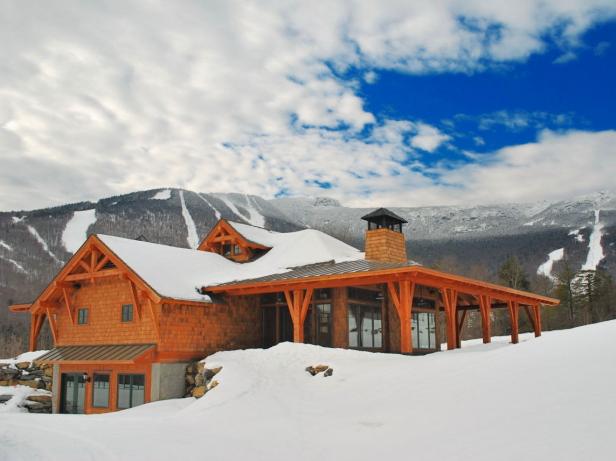 Cabin at Spruce Peak Lodge: Stowe Mountain Vermont HGTV Dream Home
Prefer to rent than own? The resort offers spacious, multi-level cabin rentals perfect for entertaining and gathering, offering guests and families comfort and convenient access to the resort's amenities. Cabin rental rates start from $2,300 per night.
A strong second-home market is the defining factor in Stowe's real estate market, which is considered to be one of the strongest and most expensive in the state. Stowe has more homes listed for more than $1 million than any other town in the state.
First-time homebuyers will be hard pressed to find a home that does not require a significant amount of renovation or, at the very least, sprucing up for less than $300,000. In the mid range ($380,000 to $700,000), very nice homes -- some with excellent views -- can be found, and properties for more than $1 million offer stunning views, generous amounts of property and spacious homes.

As a result of the strong market, land comes at a premium in Stowe. Through June 2010, there were four land sales ranging from $64,000 to $270,000, and in 2009 there were just two land transactions for between $600,000 and $700,000 each. Local agents predict as land becomes more and more scarce, Stowe will see more low-end homes on choice pieces of land selling, with teardown and construction on the rise.

One factor in the strength of high-end real estate in Stowe could be the recent multimillion-dollar expansion at Stowe's Spruce Peak, where building lots are selling for between $985,000 and $2.2 million, and multimillion-dollar homes have been constructed.

Although the vacation home market drives Stowe's real estate trends, local agents say the ratio of primary and secondary buyers is about even. Primary buyers look in the low-to-mid range and seek smaller homes (which are more cost-effective to heat in the winter) with desirable locations, 3 to 6 acres of land with views, and the ability to add value through renovation or repair. Second-home buyers want a view, open meadows, a pond or river nearby, more than 2,500 square feet, a combination of traditional New England and big-mountain style, and high-end interior finishing.
Stowe's Current Real Estate Market
Real estate sales in Stowe took a sharp nosedive in 2009, but the market now shows signs of rebounding. Before the decline, Stowe's average home sale price was around $470,000, but sales so far in 2010 reflect a higher median of $617,000. As the market recovers, experts say the high end recovers first, the trend currently displayed in Stowe.

This doesn't mean there is nothing offered at the low end ($275,000 to $380,000). Some of this year's sales have been low-end homes, but the sales of four homes each for more than $1 million -- which accounted for 15 percent of the real-estate volume -- have played into the higher-than-normal average. In 2009 by contrast, the highest home sale was $800,000.

Although some Stowe residents would argue that the town doesn't technically have neighborhoods because of its rural setting, centralized village, and shopping and eating options, there are distinct residential areas. Their differences are dictated mostly by geography and associated characteristics that relate to real estate value.
Spruce Peak is one of several high-end neighborhoods in Stowe. (Photo courtesy of Stowe Area Association)
Stowe Hollow is on the east side of town at the foot of the Worcester Mountains. Generally, the Hollow is a sought-after location because of its sweeping views and proximity to town. A quick drive down Stowe Hollow Road leads to the heart of Stowe Village, and at the southern end there is easy access to Route 100 toward Waterbury and the interstate.
Homes here are a mix of second homes and permanent residences, and real-estate prices generally are average, depending on the view and size of the property.
Stowe Hollow offers mountain views and convenient access to town.
Stowe Village encompasses the Route 100 corridor, village side streets, Cape Cod Road and Mountain Road. Some of Stowe's most historic buildings lie in the center of town. Sunset, Pond and School streets are home to some quaint homes with flowery summer porches, and their location offers the ease of walking to most everything you need.
Depending on whether the property has been recently renovated, prices here will vary widely. Generally, a village location is considered desirable for vacation, long-term rental properties and for an older demographic. Much of Mountain Road consists of shops, restaurants and other commercial properties, while Cape Cod Road is home to a handful of attractive and modest homes.
Stowe Village is known for its historic buildings.
EDSON HILL, STERLING VALLEY, and WEEKS AND WEST HILL
Northwest of the village center is a large neighborhood with a wide mix of property types. Homes on Edson Hill are among the most exclusive in Stowe, featuring large vacation homes with views of Mt. Mansfield. Closer to Mountain Road, real estate becomes more modest but is still attractive because of its proximity to both the ski area and town.
Weeks and West Hill is an affordable and quiet spot, where many full-time residents live.
Sterling Valley offers rural beauty away from the bustle of town. Many of the roads in Sterling Valley are still unpaved, making it somewhat treacherous in spring. Properties there are lovely but have limited views.
In the fall, Stowe's country roads become scenic thoroughfares to and from the area's quiet neighborhoods.
A recent $350-million expansion project at Stowe's Spruce Peak offers exclusive mountain living. Building lots, most less than a half-acre in size, have sold for more than $1 million, and, in some cases, more than $2 million.
There are spacious trailside duplexes -- called mountain cabins -- gorgeous private homes and a wide range of timeshares in the newly constructed Stowe Mountain Lodge. The development at Spruce includes a private golf club, a mountain village, hotel and spa, new base lodge, and an arts and entertainment center.
The Stowe Mountain Lodge is a leading ski resort that offers luxury accommodations. (Photo courtesy of Stowe Area Association)
MOSCOW VILLAGE, NEBRASKA VALLEY and SHAW HILL
Just south of Stowe, right off Route 100, are the small villages of Moscow, Shaw Hill and Nebraska Valley. Although you could consider these areas separate, they share some characteristics.
Moscow was once the site of a large milling operation but is now a nice residential area. Homes are typical New England farm style.
Nebraska Valley has a very classic Vermont feel -- the valley is surrounded by nature. At the beginning of the valley, there is access to the Waterbury Reservoir and Cotton Brook, which has a network of trails for biking and walking. The valley ends at Lake Mansfield, on the south side of the mountain. The Trapp Family Lodge cross-country ski and bike center is also nearby.