Things to do in Marietta, Georgia
From youth sports to historic tours, there's plenty to do in Marietta to keep your family busy.
There is plenty to do in Marietta, Ga., whether you're into shopping, sports (outdoor or indoor), history or the arts.
Start your exploring with a stroll downtown. Marietta's historic downtown area is a vibrant shopping, dining and cultural district. You can shop, get a bite to eat or a drink, then catch an outdoor performance at nearby Glover Park. Shops include art galleries, clothing and gift boutiques, antique shops and pastries shops. Downtown events include concerts, festivals, wine tastings, farmers market—there's something going on almost every weekend, including the Harvest Square festival each October, and Marietta Art in the Park each August.
Downtown isn't Marrietta's only shopping area. The Avenue West Cobb has a variety of shops, including Ann Taylor, Banana Republic and Barnes & Noble. The Avenue East Cobb offers Michael's, Bed Bath & Beyond, Chico's and many other stores. Town Center Mall is an enclosed mall with a variety of stores anchored by Macy's, Belk, JCPenney, and Sears; Cumberland has anchor stores Costco, Macy's and Sears.
Children in Marietta have the opportunity to participate in youth sports practically year-round. They can swim at one of four aquatics centers operated by Cobb County, or play football all fall. If they like hockey, they can hit the rink at the Marietta Ice Center. If your child—or you—are more into the performing arts, the The British Academy of Performing Arts and Dance Studio, and the Georgia Dance Conservatory and the Young Actors Playhouse are all located in Marietta and offer classes for all ages.
Marietta's Parks and Recreation Department operates 18 city parks, with amenities ranging from playgrounds to walking trails to a butterfly garden. The department also operates two recreation centers, which offer after-school activities, athletics and classes for city residents.
Take in a good bit of local history at Oakton House and Gardens, a beautiful 175-year-old Victorian home that offers tours, event planning, floral design, a farmer's market in the summer and fall, and landscaping and gardening workshops. Each holiday season, the home's current owners deck the halls with old-fashioned Christmas décor, which can be seen via four special tours. Also in December, the Marietta Pilgrimage gives visitors and residents a chance to tour a selection of the city's finest historic homes.
If you're into golf, tee up at the City Club of Marietta, which offers a practice facility, pro shop and restaurant, as well as 18 holes of golf in a picturesque mountain setting near the Hilton/Marietta Hotel and Conference Center.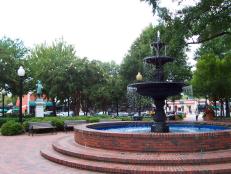 With its strong schools, youth sports and great shopping, Marietta, Georgia, is the place to be for many families living in the Atlanta area.