Things to do in Midtown Atlanta
The best restaurants, bars and things to do are located right in the heart of Atlanta's Midtown.
Midtown Atlanta is fast proving that it offers everything an urban dwelling should in terms of living, working and best of all, playing. Just as its name implies, Midtown is at the center of everything. Consequently, it has a large concentration of some of the best restaurants in Atlanta for any budget and occasion. The myriad bars offer a little something for everyone's taste and there's even a fantastic bowling alley, Midtown Bowl, that stays open late. From parks to museums, whatever entertains you the most, there are plenty of things to do in Atlanta's Midtown.
No matter what kind of cuisine you're looking for, chances are there's a restaurant in Midtown that serves it. And no matter what you like to drink, there is a mixologist that will serve it up for you.
As you may know, Atlanta is a car town. That is why going out in Midtown to some of the best restaurants and bars is an attractive venture, based on its central location and proximity to MARTA. Also, with so many hotels located in Midtown, taxis can easily be found.
Located about 50 yards from the Arts Center MARTA stop is the ever-popular Veni Vidi Vici, one of Atlanta's best Italian restaurants. About 50 yards the other direction is Nan, a gourmet Thai restaurant. The next stop down, or the Midtown stop, is Empire State South, a new joint serving authentic Southern cuisine that even has a bocce ball court. Empire is fast becoming one of the most popular restaurants in Atlanta, not only for its mouthwatering comfort food, but also for its superior selection of bourbon and other fine spirits. Grab a table or a seat at the bar; you won't be disappointed.
Of course there are a lot of dining options where no jackets are required. Our favorite come-as-you-are places in Atlanta to eat are the legendary Varsity and Street Food Thursdays, which takes place at 12th St. and Peachtree every Thursday at 11 a.m.
While you're there, what you're bound to notice about Midtown is the number of college students and lively 21-year-olds. So, when it comes to bars and drinking, we choose carefully. That said, if you want to go out and drink like an adult we suggest the Park 75 Lounge and Terrace at the Four Seasons or the bar at the Loews Hotel. Church, or Sister Louisa's Church of the Living and Ping Pong Emporium if you aren't into the whole brevity thing, is on the edge of Atlanta's Midtown in the Old Fourth Ward. It is a personal favorite and you may spot a celebrity or two. If a thumping DJ and club atmosphere is what you seek, try TakoBAR or Whiskey Blue at the W Midtown. Please drink responsibly. If you don't, take a cab and two aspirin but don't call us in the morning.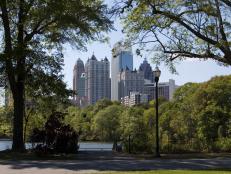 Home to the young and fabulous, Midtown is one of Atlanta's most walkable communities with lots of new luxury high-rises, world class shopping and lively nightlife.