Top 10 Most Romantic Cities in the U.S.
Spice up your love life in these 10 romantic cities on Valentine's Day or any day of the year.
Love is in the air! Whether you're single or in a relationship, an outdoor enthusiast or domestic guru, enjoy quiet walks on the beach or late-night dancing downtown, the city you live in should nurture your sense of romance. Spice up your love life in these 10 romantic cities on Valentine's Day and any day of the year.
Urban Adventure in New York City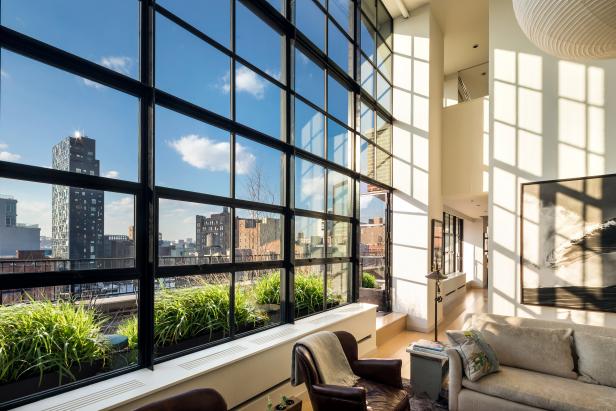 View: Light-Filled Loft in New York, N.Y.
Enjoy brilliant light and sweeping panoramas from endless steel casement windows in this stunning penthouse loft. Inspired by the classic artist studios of the 1920s, this signature Cary Tamarkin-designed residence offers more than 4,100 square feet of indoor/outdoor living space.
Halstead Property, a member of Luxury Portfolio International
The opportunities for romance are endless in the Big Apple. From the traditional route (a carriage ride through Central Park or admiring the views from the top of the Empire State Building) to something more offbeat (a play at New York University or rollerblading in Hudson River Park), you'll never run out of romantic activities.
Soak Up the Sun in Honolulu
Ocean View: Custom Home with Ocean Views in Honolulu, Hawaii
You'll revel in luxury and privacy at this exquisite cliffside residence located in the exclusive Hawaii Loa Ridge gated community. Perched above the water, the 6,000-square-foot custom home delivers jaw-dropping views of the Pacific Ocean and Diamond Head.
Choi International, a member of Luxury Portfolio International®
With year-round warm weather and one of the best beaches in the world, Honolulu is a perfect spot for lovers of sun, sand and surf. Walk hand-in-hand down Waikiki Beach, admiring the views of Diamond Head, Hawaii's famous volcano. If you need a breather from the beach, explore one of the city's botanical gardens or shopping centers.
A Quiet Getaway in Cape Cod
If you want your trip to the ocean to be more tranquil than thrilling, give Cape Cod a try. The area's plethora of bed-and-breakfasts will provide you with roses and a bottle of champagne and let you hole up for the weekend, enjoying the sound of the ocean from the comfort of your room. If you feel like venturing out, try some of the area's fantastic seafood or take a ferry to Martha's Vineyard.
Conquer the Great Outdoors in Aspen
Active romance-seekers looking for adventure should head to this ski resort with acres of snowy terrain for every level of skier. Try one (or more) of the city's four ski areas -- Highlands, Buttermilk, Aspen Mountain and Snowmass -- or climb to the top of Smuggler Mountain for a spectacular view of the charming mountain town. After a day of hitting the slopes, warm up in one of Aspen's downtown cafes or art galleries.
Dance the Night Away in Miami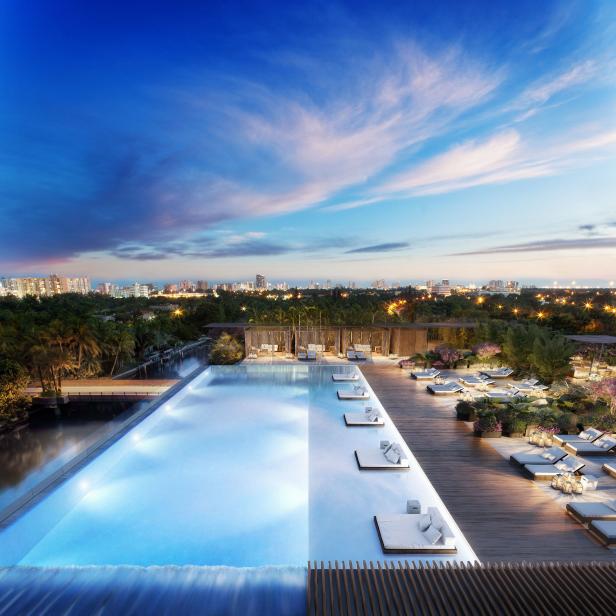 Miami Overlook
Multi-trunked, native Everglades Palms provide the appropriate native Florida ambiance for this amazing rooftop setting at The Ritz-Carlton Residences. The 92 foot pool is the crown jewel in Piero Lissoni's opulent design that incorporates a sweeping view of Miami as well as such amenities (just beyond the camera range) of private cabanas, a large hot tub, an outdoor kitchen and other perks.
Image courtesy of The Ritz-Carlton Residences': DBOX
Miami is an ideal destination for those who live for nightlife. Spend your nights in trendy South Beach nightclubs, or if you're feeling ambitious, take salsa lessons and show off your moves in a Cuban club. For a jolt of energy after a long night of partying, try Cuban coffee, a daily morning ritual in Miami that's more than double the strength of the typical American cup of Joe.
Vegas weddings are all about variety. From elegant waterfront weddings to kitschy themed weddings, couples who want to get hitched are sure to find something that fits their preferences and price points. But be sure to save money for Vegas' wide selection of fine dining, high-end shopping and, of course, casinos.
Southern Charm in Charleston, SC
You'll feel like a true southern belle or gentleman while meandering through Charleston's streets, lined with historic buildings and live oaks draped with Spanish moss. Stay in one of the city's quaint inns, and spend your days exploring antebellum mansions and Civil War landmarks. At sunset, enjoy each other's company in one of several family-sized swings in Waterfront Park.
World-Class Wine in Sonoma, CA
Wine lovers will be in paradise in the birthplace of California's wine industry. You can spend days exploring the town's wineries. After an afternoon of sampling Chardonnays and Syrahs, take a stroll through the Plaza, the largest town square in California, to see if any festivities are taking place.
Breathtaking Views in San Antonio, TX
Trade the cityscape for natural scenery in San Antonio, situated just south of the lush, rolling Texas Hill Country. Spend your days exploring Enchanted Rock, one of the largest natural rock formations in the United States, or get a broader view of the area by taking a hot air balloon ride. Then enjoy a romantic dinner at one of the many restaurants on the San Antonio River Walk, a network of cobbled walkways and bridges surrounding the country's oldest Spanish-colonial water system.
Embrace History in Philadelphia, PA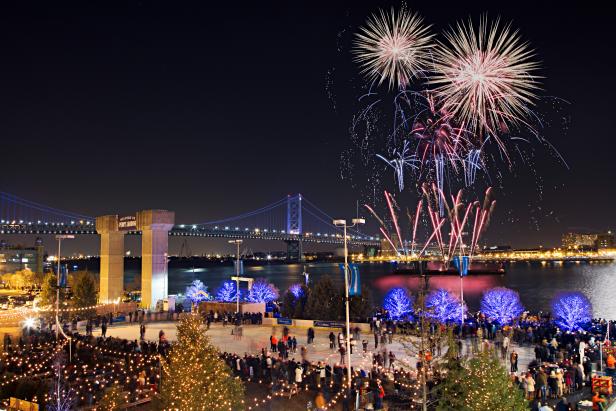 On the Waterfront
New Year's Eve fireworks add festive flair to Philadelphia's riverfront rink. A winter garden made of illuminated trees and shrubs, wood chips and fire pits surrounds the rink, which is part of the Blue Cross RiverRink Winterfest from November-March annually.
Photo courtesy of Matt Stanley
The nation's first capital is a great place to explore both your romantic side and your patriotic side. Ride in a horse-drawn carriage around Independence National Historical Park, or read quotes from romantic letters passed between Ben and Deborah Franklin, engraved into the pavement of Franklin Court. At night, come back to the present with a romantic dinner at one of Philly's great restaurants.