What It's Like to Live in a Beach Town
Locals share the perks and drawbacks of living in five beach-side cities.
Myrtle Beach, South Carolina
Myrtle Beach, South Carolina, is the cornerstone of the famed Grand Strand -- the 60-mile stretch of uninterrupted beaches in South Carolina. The area's scenic beaches and lively community attract about 15 million visitors each year, but it's the more than 31,000 residents who get the best of both worlds.

"While a lot of people have to set a vacation time to come visit, I can have a vacation much more frequently just by living here," says Kimberly Miles who has lived in Myrtle Beach for six years. "It's great to take part in all of the amenities offered here."

Getting around: A native of Washington, D.C., Miles is accustomed to navigating congested roadways, which comes in handy during the summer months when the area is hit with heavy traffic. The peak season -- the months of June, July and August -- is when traffic is worst, but Miles said it's nothing compared to other major cities.

But if you don't want the hassle of navigating traffic, there are alternatives. Miles says the Coast RTA -- Myrtle Beach's public bus system -- taxi cabs and bicycles are convenient options for those who'd prefer not to drive.

Owning a home: Compared to many other beach towns, owning a home in Myrtle Beach is very affordable, said Miles, who closed on her first home at the end of February. The average cost of a 2,400-square-foot house with three bedrooms and two bathrooms is around $237,000.

And according to Miles, in addition to houses, there are plenty of condos, townhouses and even some multimillion-dollar homes to choose from. Along the intercoastal, there are several pricier houses with proximity to the ocean as the main selling point.

Finding fun: In Myrtle Beach, there is never a shortage of activities to enjoy. "Because we are a vacation destination, pretty much you name it, you can do it," Miles says. "There's something going on every night of the week."

Locals enjoy listening to live music, eating at one of 1,600 restaurants, watching fireworks in the summertime and participating in outdoor activities. One popular location is Broadway at the Beach, a complex complete with retail stores, restaurants, nightclubs and other entertainment.

Tallying the cost of living: Based on a 2008 report, Myrtle Beach falls just below the national average on the cost of living index. Home prices, utilities and transportation costs are generally affordable, and beach entry and various entertainment are free. It's no problem to live comfortably in the area on a modest salary, Miles says.

"In general, it's much more affordable to live in South Carolina than in other states," she says.
Cape Cod, Massachusetts, is the iconic Northeast beach town. The 413-square-foot peninsula, with its 560 miles of shoreline, boasts some of the most pristine beaches perfect for kicking back and relaxing.

Bill DeSousa-Mauk lives in Osterville, one of the villages in the town of Barnstable in the Mid Cape, and has lived there for 18 years. Originally from New York City, he remembers visiting the Cape as a child and falling in love. "The fall colors and beautiful scenery -- it was a refuge to get away from the big city," he says.

Getting around: In the summertime, DeSousa-Mauk says, congestion on the roads is "a way of life." With only two bridges connecting Cape Cod to the mainland, traffic is to be expected, especially on the weekends. "If everyone is leaving to come down at 5 p.m. on Friday, there will be a lot of traffic," he says. "But if you time your travel right, it's not a problem."

Getting around locally, however, is another story. While the bus system isn't the preferred method of transportation, Desousa-Mauk says bike riding is popular and efficient. "We have over 110 miles of dedicated bike trails. And you don't have to worry about parking because a lot of beaches don't have big parking lots," he says.

Owning a home: It's hard to say specifically the average home price in Cape Cod because all the towns are so different. But DeSousa-Mauk estimates the average cost to own a home in Barnstable, for instance, is around $350,000.

In other parts of the Cape, however, prices can be more than $1 million, and properties on the water are even pricier.

Finding fun: DeSousa-Mauk can go on for hours about all the fun there is to be had in the Cape. He cites outdoor activities -- walks on the beach, kayaking, whale watching, lighthouse peeping, surfing, sailing, bird watching, photography -- as the most enjoyable. But beyond that, he says there is much more.

"I've lived here almost 20 years: I go exploring every weekend, and I haven't even scratched the surface. I'm always discovering something new," DeSousa-Mauk says.

Tallying the cost of living: While Cape Cod isn't the most expensive place to live, it certainly isn't the most affordable place either. DeSousa-Mauk says it's less expensive than New York, Boston and even Southampton, but he admits you need to make a good living to live comfortably in Cape Cod.

On the other hand, he says, residents save a lot of money on entertainment because they have it all at their fingertips. There is something to do right in their back yards every day year-round.

"We don't have palm trees. We don't have Disneyland. What we have to share here is something American -- something pristine," DeSousa-Mauk says.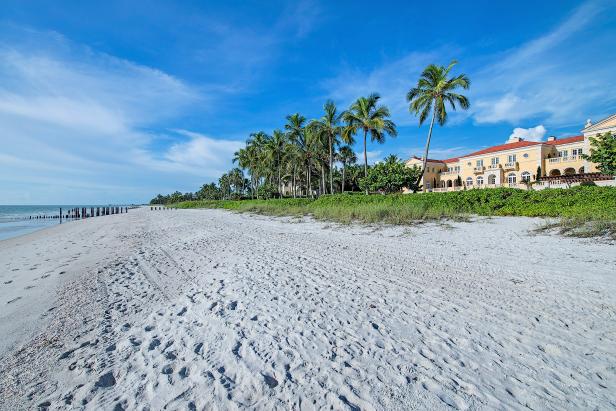 Yellow Waterfront Mansion With Direct Beach Access
This magnificent Florida-based mansion boasts immediate access to 277 feet of sandy shores and stunning views of the Gulf of Mexico. Palm trees line the property, adding to the tropical landscape.
John R. Wood Properties, a member of Luxury Portfolio International
If you close your eyes and picture paradise, most will conjure images of aquamarine waters, white sand beaches and palm trees dotting the shore. For most, it's merely a dream; but for residents of Naples, Florida, it is their daily reality.

Phil Wood, who has called Naples home for 53 years, describes Naples as one of Florida's most tropical destinations. "The powdery white sands are totally unlike the east coast of Florida and unlike most other areas in the U.S.," he says.

Getting around: The easiest way to get from Point A to Point B in Naples is to drive. Most residents own cars and use them to get around town. But there is a large community of bicyclists and walkers, especially in the downtown area and close to the shore.

You can generally tell what time of year it is in Naples by observing the traffic. That is, traffic in Naples is virtually nonexistent from April to October. But come November to March, congestion on the roads becomes more of an issue. That's because of the influx of what Floridians call "Snow Birds," or part-time residents who flee to Florida to escape the cold winter months up North.

But even so, Wood says, it's manageable. "It's not like a big city -- it's still so much better than what most people are accustomed to dealing with on a daily basis."

Owning a home: According to Wood, real estate in Naples is unique because of its wide range. "The interesting thing about Naples is we have selections at $100,000 and selections at a couple million dollars and everything in between," he says.

The median close price on a single-family home as of June 2010 is around $184,000, Wood says. The number is lower than normal because it reflects some of the recent foreclosures in the area. The normal average, Wood estimates, is in the range of $300,000 to $400,000.

Finding fun: Recreation in Naples centers on the outdoors. Because of the constant warm weather -- what Floridians refer to as year-round summer -- outdoor activities are most popular.

"There's never a day in the year so cold that you can't play golf or tennis or just be outside," Wood says. Residents enjoy kayaking, golfing, fishing, tennis, walking, cycling, boating and even exploring the nearby Everglades. Shopping and dining out are also very common, especially on Naples' famed Fifth Avenue, the heart of the city's downtown area.

As for entertainment, there's an active live music scene ranging from reggae bands to jazz musicians. And with the Naples Philharmonic and Naples Players theater group, there's always something to do or see.

Tallying the cost of living: Although Naples has a reputation of being a bit upscale, Wood says it's all in how you look at it. "It's probably a little bit above the normal median in Florida. It's not as high as some places on east coast like Miami or Palm Beach, but it's a bit of a luxury place."

But with the wide range of housing prices and the lack of a state income tax, living in Naples is actually more affordable than many imagine.
Situated in central California, miles south of San Francisco, Santa Cruz is a popular surfing destination and beautiful beach town. With its rocky coast and picture-perfect ocean views, locals are proud to call Santa Cruz home.

"The natural beauty of the place is something that grabs a lot of people," says Gregg Camp, who has lived in Santa Cruz for 33 years. "There's something inherently calming about seeing the ocean every day."

Getting around: While driving is the most popular way of getting around Santa Cruz, Camp says there are plenty of other ways to commute. The bus and rail system is well organized and popular among students and seniors. He also says there is a big community of bike riders who have no problem navigating the roads. And in some beachside communities, it's easy to walk from place to place.

As far as traffic is concerned, Camp says aside from the typical morning and evening rush-hour congestion, it's not too much of an issue.

Owning a home: When dealing with real estate, Camp says, Santa Cruz Proper is divided into a west and an east side. Homes in the west side are generally more expensive because of the demand caused by students attending the University of California, Santa Cruz. Average prices for two- and three-bedroom homes there are between $850,000 and $1.3 million.

On the east side, however, homes are more reasonably priced, between $550,000 and $600,000 on average, says Camp, a real-estate broker who owns Property in Santa Cruz, an area brokerage.

Finding fun: With Santa Cruz's proximity to both the water and the forest, it is an outdoor lover's paradise. "You can go from towering redwoods to the ocean in 45 minutes," Camp says. If you like being outside, you can surf, hike, fish, sail, kite board, golf or participate in a variety of sports. If you're a nature lover, you can explore the butterfly sanctuary, bird sanctuary, Neary Lagoon, 30,000 acres of parks or the nearby redwoods forest.

Aside from the outdoors, there is plenty of nightlife and entertainment to enjoy. One local hotspot is Captiola Village, which offers dining, shopping, live music, art festivals and other events year-round.

Tallying the cost of living: Camp admits the cost of living is higher in Santa Cruz than it might be in some East Coast beach towns. But, he says, residents balance that with the perceived quality of life there. With all the natural beauty and opportunity for fun, Camp says it's totally worth it.

Living here "has a lot of value and emotional appeal. In a busy world, having this much calm is something Santa Cruz can bring to you," he says.
Ocean City, New Jersey, is not your typical beach town. Famous for being a family resort that has prohibited the sale of alcoholic beverages since its inception in 1879, Ocean City is a quiet beachside city with a small-town feel.

In fact, the Travel Channel named Ocean City the best family beach of 2005. Doug Grisbaum, who has lived there for 43 years, says nothing can compare to Ocean City's charm. "I've been all over the Caribbean, and I still think the nicest beach is here -- it's clean, fun, and there's always something to do," he says.

Getting around: Getting around Ocean City is not a big to-do. Driving and riding your bike are both easy ways to commute, Grisbaum says. But come summertime, it's a different story.

"July and August can be tough. There are a lot of people in town then," Grisbaum says. In the summer months, an influx of second homeowners and tourists sometimes can cause traffic delays around the clock.

Owning a home: Just like in any other beach town, the cost of a home is all about location, Grisbaum says. The closer to the water, the more expensive the price will be. Homes near the shore can cost several million dollars, while houses farther inland can be as little as $85,000, he says.

"As you go back, the value goes back," Grisbaum says. He estimates the median price for a home in Ocean City is around $550,000.

Finding fun: While Ocean City might be lacking in alcohol, it makes up for it in clean, family fun. There is so much to do in the area at any time throughout the year. "We go from a summer vacation resort to a quiet winter getaway. You get the best of everything," Grisbaum says.

A favorite hot spot for residents is the 2.5-mile boardwalk that features an amusement park, movie theaters, arcades, miniature golf, live entertainment and more. There is also a quaint downtown area packed with unique restaurants and shops. And, of course, there are outdoor activities such as fishing, surfing, biking, golfing, walking, as well as a host of sports clubs and sporting events to keep locals busy.

Adding to the appeal, Grisbaum says, is the city's proximity to other popular places. "We're close to Atlantic City, Philadelphia -- there are always things to do," he says. And with an airport nearby, traveling a bit farther is made that much easier.

Tallying the cost of living: Grisbaum compares living in Ocean City to living in any other suburban city. Tax rates are reasonable, he says, and other daily expenses are not outrageous. In the summertime, prices in some tourist spots are a little more expensive, but that's to be expected.

But the real draw, Grisbaum says, is not something that can be monetized. "We're a family town -- it's very safe and very peaceful, and that's the best part."