Decatur, GA: Real Estate and Rentals
This progressive city is known for its historic bungalows, but you can find new construction too.
For a few decades, Decatur, Ga. suffered a decline, as many families moved to Atlanta's far-flung exurbs. That trend has reversed, and this city has become a sought-after address, with many homes undergoing renovation on the tree-lined streets of its historic neighborhoods.
Decatur is known for its bungalows and cottages, and you can still find some for less than $200,000. These homes will generally have two bedrooms and one bathroom, and may have some upgrades such as newer heating and air conditioning systems or updated kitchens and bathrooms.
One the higher end of the price range, fully restored, true Craftsman bungalows will usually be listed for $500,000 or more. Most of these properties will have at least three bedrooms and many have more than that. You can also find larger homes newly constructed in the Craftsman style; expect to pay around $700,000 and up for those.
Decatur's historic core has several neighborhoods. The city's Oakhurst historic neighborhood is well-known for its bungalows, as well has smaller cottages built in the 1940s. In the city's northeast corner, the Glenwood Estates neighborhood is an affluent enclave, offering larger brick homes built during the 1920s. Homes for sale here tend to sell quickly, and often list for more than $500,000.
Other historic districts include the MAK Historic District, named after the three main streets it encompasses - McDonough, Adams and Kings Highway; the Ponce de Leon Historic District, which consists of just one downtown street, and the Winnona Park Historic District.
Although it is known for its turn-of-the-century homes, Decatur also has its share of midcentury ranchers and split-level houses, some for under $100,000. Larger, updated ranchers can list for around $300,000 and up.
Decatur has several condominium communities, some with investor opportunities for under $20,000, if you're willing to make some repairs. On the high end, luxury condos are available in a few communities, priced between $300,000 and $400,000.
Currently under construction, Oakview Townhomes will be a small community with townhomes next to the popular Oakhurst historic neighborhood. Downtown, you can sometimes find condos in a midrise building for a little over $300,000. This price range will get you a swimming pool, fitness center and gated parking. For about $100,000, you can find a townhome with a garage in a more suburban setting, where you'll be driving to most of your shopping and dining.
Most of Decatur's residential development has been in single-family homes, but I've you're looking for an apartment, you have a few choices, including Decatur Crossing, which has one-, two- and three-bedroom apartments with rent ranging from $800 to $1,600 per month. Amenities include a swimming pool, fitness center and gated entrance.
Another complex is Jackson Square Apartments, which offers one-, two- and three-bedroom units ranging in price from $725 to $1,600. Amenities include a swimming pool, tennis court, movie theater and fitness center.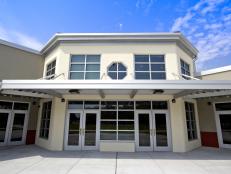 This nationally recognized school system employs innovative educational methods.