What It's Like to Live in New Orleans
Indulge in the rich history of the Creole culture and find out why locals love the Big Easy.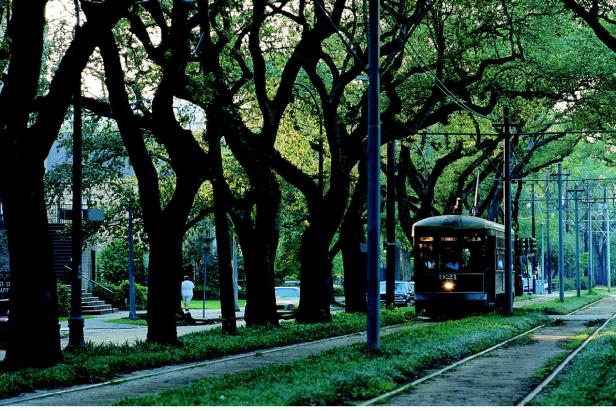 St. Charles Streetcar
Streetcars have long been a popular means of transportation in New Orleans. The St. Charles Streetcar runs on the St. Charles Avenue Line and is the only line that has run continuously throughout New Orleans' streetcar history. After Hurricane Katrina in 2005, the line was partly opened back up in December 2006, and has since continued to be restored to its former glory.
Don't be surprised if you hear people describe New Orleans as a "Northern Caribbean city" rather than a "Southern United States city." That's because the inherent culture of La Nouvelle Orleans has its earliest roots in French culture. The city was founded in 1718 by explorers Iberville and Bienville, overlain by Spanish and then modified by infusions of residents from the Caribbean Isles, all before the Americans took over in 1803. And it's why many first-time visitors — and year-round inhabitants — say New Orleans feels more like Europe than the USA.
Known as "The City that Care Forgot," "The Crescent City," "America's Most Interesting City," and, of course, "The Big Easy," New Orleans offers a lifestyle that is worlds apart from the hustle and bustle of most metropolitan areas. Situated amidst Lake Pontchartrain on the north, the Mississippi River on the south and wetlands all around, the city is a bit of an island itself, a factor that has allowed local traditions to grow and develop during the past centuries so that New Orleans has a quirky character all its own.
Part of the culture is reflected in the food, known around the world for its interesting spices and seafood base. From the haute cuisine of the fine French restaurants to earthy fried oyster po'-boys at neighborhood restaurants, the cuisine reflects the diversity and eccentricities of this port city.
The same holds true with the architecture. In the oldest neighborhoods, there are early examples of French and Spanish masonry buildings, intermingled with newer additions including the iconic "shotgun house," houses designed to fit on the city's narrow, deep lots. From the cast-iron filigree of the French Quarter to the Greek revival stateliness of the Garden District and frilly Eastlake double shotguns of Faubourg St. John, the wonderful variety and volume of historic houses make the streetscapes of New Orleans a distinctive and colorful backdrop for everyday life.
And of course, there's the music. Though New Orleans jazz and its early masters are universally known, now the brass bands are getting their due, thanks to the media. Mardi Gras Indians — brightly costumed African-American clubs that parade on foot on Mardi Gras day and "Super Sunday" — have their own beat, as do rappers like Lil Wayne and Mystikal, both New Orleans products. Like the food and the architecture, the music of New Orleans reflects the rich heritage of the city.
So what's it really like to live in New Orleans? Read on to learn more.
French culture is deeply rooted in New Orleans, giving the city a very European feel.
On the Grid. Unlike many historic cities with a wandering street grid (think old Boston), New Orleans has a straightforward street grid that makes it easy to get around — as long as you take into account the curve of the river. That's because the "east-west" thoroughfares follow the shape of the river, curving north or south depending on the giant loops formed by the river thousands of years ago. For that reason, New Orleanians rarely, if ever, refer to points of the compass but use uptown (upriver), downtown (downriver), lake and river instead. For instance, they'll say something like, "My house is on the Uptown, lake corner of St. Charles and Arabella," referring roughly to the northwest corner of the intersection. Or they might say, "I live on the downtown, river corner of Burgundy and Louisa," referring generally to the southeast corner.
Not What It Seems. Perhaps the biggest challenge to getting around the city is learning the idiosyncratic pronunciations the locals use. Burgundy Street isn't pronounced "BER-gun-dee" but "ber-GUN-dee." Reynes Street isn't "RAYNZ" but "ray-NEZ." In the Lower Garden District, some streets are named for Greek muses and their pronunciations are ever debated. More commonly though, Calliope is "kal-ee-OPE" instead of "kuh-LIE-o-pee," and Melpomene is "MEL-po-mean" instead of "mel-POM-uh-nee." The toughest to say AND spell might be Tchoupitoulas — just say "chop-uh-TOO-lus."
A Walkable City. Thanks to the tightly woven fabric of New Orleans neighborhoods, it's easy to live in a house where restaurants, dry cleaners, groceries, banks and pharmacies are just a few blocks away. There is even an Uptown neighborhood with its own single screen movie theater!
Parks and playgrounds dot the landscape, so parents of young children can often push a stroller from their front doors to a suitable recreation spot for their children. And walking, of course, is the best way to get to know your neighbors, appreciate the built environment and cut down on greenhouse gases. Thankfully, the terrain is almost totally flat (New Orleans is in a river delta, after all) so huffing and puffing up or down hill is not required.
Cycling. Thanks to flatness of the land (there is not more than 20 feet of vertical change from the lowest spots to the highest in the city), New Orleans provides an ideal environment for cyclists. Plenty of New Orleanians commute to work on bikes and their ranks are growing, thanks to the construction of bike lanes on many major thoroughfares. In fact, the New Orleans Cycling Coalition has mapped the city's streets and graded them according to their ridability.
The terrain is equally friendly for those who cycle for recreation rather than transportation. Atop the levee along the Mississippi, a cycle path extends for miles from Audubon Park in Uptown New Orleans to upriver communities. There is a cycling path in the St. Charles Avenue section of Audubon Park (with a lane for walkers, skaters and strollers adjacent) plus miles of roads for cycling in City Park, a 500+ acre urban forest near Lake Pontchartrain.
The Streetcar and More Options. There's no question, New Orleans' historic streetcars are picturesque. But they aren't just a novelty. Many New Orleanians use the St. Charles, Carrollton and Canal Street lines to get to work everyday or get from point A to point B. Soon these lines will be joined by new routes along St. Claude Avenue (heading down river) and Loyola Avenue (connecting the train and bus stations to the main business district). Red streetcars along the riverfront help weekend throngs migrate from the Warehouse District to Faubourg Marigny without burning shoe leather.
Although the bus fleet was impacted by flooding associated with Hurricane Katrina, bus routes still serve core city neighborhoods and provide on-demand service in those that are more far-flung.
The east-west throughfares follow the shape of the river which makes it easy to get around the city, no matter what type of transportation you use.
New Orleans is a city of neighborhoods, so no matter what your lifestyle preferences, there's likely a neighborhood that will suit your budget and tastes.
Neighborhoods. After the French sold the Louisiana territory to the United States in 1803, Americans overran the original city and built fine homes on large lots in areas like the Garden District. Creoles, meanwhile, concentrated their mansions along Esplanade Avenue, in an historic district now known as Esplanade Ridge.
Later in the 19th century, Irish, German and Italian immigrants joined the mix, many of them seeking new opportunities working on the docks or building important civic structures like the New Basin Canal. Rental housing — in the form of double shotgun houses — was constructed for them in areas like the Irish Channel and Central City.
As the technology for draining swampy lands improved in the very early years of the 20th century, the city expanded into areas once deemed uninhabitable. Mid-City and Broadmoor are two neighborhoods built on drained land and feature Arts and Crafts bungalows as well as homes built in revival styles including Colonial, Mediterranean, and neoclassical.
Builders took full advantage of the high ground on the natural levee of the Mississippi River and, when they ran out of space, sought out ridges formed by defunct bayous. Thus, the Gentilly Terrace and Gardens development arose along the Gentilly Ridge in the 1920s, featuring Pasadena-style Craftsman bungalows and — a first — garages to accommodate automobiles.
Drainage and infill of the swamp bordering Lake Pontchartrain in the 1940s gave rise to communities like Lakeview, Lake Vista and Lakeshore east and west. By the 1960s, when suburban living became popular nationwide, New Orleans East developed, a community within the city limits that features brick ranch houses with tidy lawns. Beginning in the 1990s, warehouses and commercial buildings — no longer needed for their original purposes — began to be converted into condominiums, offering still more variety in housing options in the city's Warehouse District and Central Business District.
Today, homes with a pronounced contemporary edge are joining the mix and feature energy-efficient, environmentally friendly and sustainable design. In Holy Cross in the Lower Ninth ward, the international non-profit Global Green has built such homes and Brad Pitt's "Make It Right" foundation has built a village of cutting edge contemporary homes a mile or so to the north.
The Market. Predictably, location determines what a buyer can expect to pay for a home. The French Quarter, Garden District and Uptown near Audubon Park command the highest prices. But buys can be had in neighborhoods like Gentilly, Lakeview, the Irish Channel, Mid-City, Carrollton and more. A favorite find is a double shotgun in fair condition — buyers like to convert them into single family residences with sparkling new kitchens and baths while retaining their Old-World charm.
Except in the highest dollar neighborhoods, it's rare to find a large yard when shopping for a house. Most homes in the city's 18 historic districts occupy lots just wide enough to accommodate the house — about 30 feet-wide by 125 feet-deep. But in newer areas like Lakeview and Gentilly, lots are easily twice as wide, affording opportunities for off-street parking, a garden and outdoor recreation area.
Going green. Gardens, even a small patch in the front yard, are plentiful in the city, thanks to the fact that the climate lends itself to near year-round gardening. Camellias and Japanese magnolias in the winter, azaleas and jasmine in the spring, Southern magnolias in the summer, and roses throughout the year add visual interest and fragrance to every neighborhood. Tropicals and semi-tropicals abound, including Birds of Paradise, butterfly ginger, bananas, palms and elephant ears.
he downside to the hospitable growing conditions is that it can be a chore to control an overly enthusiastic garden, much less the weeds that take full advantage of the relative warmth and humidity of the environment. Come August, when temperatures and humidity climb to the mid-90s daily, no one wants to be weeding or pinching back annuals and perennials. Some locals simply remove heat-stressed annuals and mulch the beds, awaiting cooler weather in early October.
New Orleans is made up of many different neighborhoods, making it easy to find a spot that fits your particular lifestyle.
New Orleans isn't a city where it's difficult to find fun. In fact, it's much harder to avoid it than it is to find it. You may find yourself sitting in your home office when you hear a drum, then a trumpet, and realize you're listening to the students at a nearby high school practicing for marching in a Mardi Gras parade. Frequently, en route to an appointment, you'll have to detour to avoid the brass band, social aid and pleasure club, Mardi Gras Indians procession, "second-line" or jazz funeral in the street ahead.
If you love music, dining out, art and the outdoors, there is always something to occupy you — often for free.
Dance to a Different Beat. Aside from the music of street parades, there are dozens of options for hearing music in the city, free or for a fee. Churches, including St. Louis Cathedral on Jackson Square, are regular sites for Sunday afternoon music concerts, ranging from classical to contemporary. Dozens of street fairs take place throughout the year, with free admission and an ample musical — and culinary — menu. Even schools get into the act when they have fairs, showcasing the best of the city's musical talents. The universities (Tulane, Loyola, Dillard and others) contribute, too, hosting recitals and other musical events.
For the nightclub set, there is the iconic Preservation Hall in the French Quarter, where you'll hear Dixieland played the way it is supposed to be. The Maple Leaf in Carrollton, Tipitina's Uptown, Howlin' Wolf in the Warehouse District, Snug Harbor in Faubourg Marigny and Vaughn's in Bywater are just a few of the places that locals go and take visitors.
Wining and Dining. It might sound odd to count "dining out" as a recreational pursuit, but in New Orleans, that is exactly what it is. The city has more restaurants now than it did before Hurricane Katrina (when the population was larger) so that tells you a little bit about the locals' desire to get out of the house and try a new place or revisit a favorite.
Locals like to joke that only in New Orleans do diners sit at a table in a restaurant, talking about the restaurant they visited last week and comparing notes on the one they want to try next.
New Orleans has long prided itself on offering dining options across a full spectrum of prices and still does. You can't get red beans and rice at Buster Holmes' in the French Quarter for .32 cents as you could in the 1970s, but gumbo, po-' boys and other local specialties are plentiful and affordable at almost any neighborhood dining spot. When you're ready to spend lavishly on a special evening, nationally known chefs like Susan Spicer, John Besh, Emeril Lagasse and others serve up their versions of traditional and contemporary cuisines at the city's finest restaurants. And don't forget the city's old line purveyors like Galatoire's, Antoine's and Commander's Palace — that's where you'll get the best insight into the ways of old New Orleans.
See and Be Seen. The French Quarter was once the epicenter of New Orleans' art scene, but since the 1990s has been joined by additional locales where art galleries are plentiful. The first to join, the Warehouse District, blossomed in the 1980s along with the establishment of the Contemporary Arts Center in the 900 block of Camp Street. Galleries now stretch the length of Julia Street and invade side streets throughout the district.
Beginning in the 1990s, Magazine Street became a favorite location for new galleries. Today they mix with fashion boutiques, tapas restaurants, coffee houses and shoe repair shops along a vibrant, urban corridor that stretches from Canal Street upriver almost to Audubon Park.
In the past few years, the St. Claude Avenue area — downriver of Canal Street — has become the focal point of the city's most experimental arts culture, complementing the non-conformist feel of bordering neighborhoods like St. Roch, Bywater and Faubourg Marigny. Free opening exhibitions often include complimentary wine, enhancing the experience without costing gallery hoppers a penny.
In addition to these permanent venues, monthly arts markets have sprung up in a variety of neighborhoods. The Freret Street, Palmer Park and Bywater markets are the longest established and offer food booths in addition to paintings, fiber art, ceramics, jewelry and more. Don't be surprised to find a local band or puppet troupe performing when you arrive — it's all part of the free experience.
The Great Outdoors. Some New Orleanians prefer outdoor pursuits to the urban offerings of the city and many more like to balance the two. Lake Pontchartrain and the area's abundant green spaces provide ample opportunity for their pursuits.
Lake Pontchartain — 26 miles across — is the perennial destination for those who enjoying sailing, water skiing and all kinds of aquatic activities. Marinas on the lakefront provide berths for hundreds of vessels, both small and grand. Ever since the Lake Pontchartrain Basin Foundation began monitoring and improving the quality of water in the lake, locals have flocked back to this beautiful spot, if only to enjoy a picnic along the seawall or in-line skating along its edges.
For more serious fishermen, the areas bayous, Lake Borgne, Lafitte and other prime spots are close enough to leave in the morning and eat your catch at home in the evening.
If canoeing and rowing crew appeal to you, Bayou St. John offers the perfect venue. You can even rent canoes and other boats in City Park and paddle its many miles of waterways.
But that isn't all that City Park has to offer. Joggers, walkers, skaters and cyclist all take advantage of its many roads and paths, including the newest one circling "Big Lake." The park also features a golf course, tennis courts, stables, a botanical garden, a children's amusement park complete with a 100-year-old carousel, and acres upon acres of oak-shaded groves. The Couturie Forest and Scout Island offer hiking opportunities within the park's borders.
From jazz festivals to outdoor activities, there is never a shortage of things to do in New Orleans.

TALLYING THE COST OF LIVING
Before Hurricane Katrina, New Orleans was arguably the best bargain to be found as far as housing and dining go. But the storm altered that to some extent. With much of the housing stock compromised, apartment rents went up, raising the cost of living along with it.
As in any city, housing costs (whether for enters or buyers) vary by neighborhood and location within the neighborhood. You can expect to pay as little as $500 a month renting a one bedroom in a sub-prime part of town to more than $1200 in a prime location. Likewise, prices for renovated houses range from about $100 a square-foot in some neighborhoods to as much as $300 a square-foot in others (and the Quarter is higher still).
Sales taxes are 9 percent, high by national standards and meant to make up for the fact that New Orleanians benefit from a "homestead exemption": The first $75,000 of the value of your home isn't subject to real estate taxes. Unlike in some other places, groceries and clothing are not exempt from sales tax.
With festivals, fairs and neighborhood restaurants offering great prices on local food, it isn't necessary to spend a lot of money dining out — unless you want to. In the best restaurants, expect to pay $18 to $30 for entrees.
The expense of schooling has long been a consideration for parents in New Orleans. Given the fact that the city was founded by the French, Catholic schools have long been a part of the educational environment in the city. Parents can spend as much as $10,000 a year sending their children to parochial schools or $20,000 a year sending them to elite independent schools. Fortunately, the school reform movement has significantly improved the quality of the public and charter schools, so parents have more options than at any time since the 1960s.