Nashville: The Top 10 Tourist Attractions
You've checked out the Country Music Hall of Fame, Ryman Auditorium and the Grand Ole Opry. What else does Nashville have to offer country music fans? Plenty.
Ernest Tubb Record Shop
417 Broadway
Nashville, TN 37203
615-255-7503
Tucked in among the honky tonks and juke joints on Broadway is the world's most famous record store. Founded by the legendary country singer, the Ernest Tubb Record Shop on Broadway has been drawing fans and artists alike for 58 years with its extensive collection of classic and contemporary country music albums and CDs.
While shopping for tunes, take notice of the small stage located in the back. It's where Hank Williams, Patsy Cline and Elvis Presley performed when the store was home to the Midnite Jamboree, radio's second-longest running show.
Historic Downtown Franklin
The trip to this small town south of downtown Nashville takes only around 15 to 20 minutes, yet once you take the turn on Franklin's Main Street, it might feel as if you've traveled back in time more than 100 years. Block after block of Victorian and antebellum homes have been restored and the town's commercial district is lined with dozens of unique shops and restaurants. If you spot someone on the street who looks an awful lot like Alan Jackson or any other celebrity it probably is. Many country stars have homes and farms in Franklin and nearby Leiper's Fork.
The Frist Center for the Visual Arts
919 Broadway
Nashville, TN 37203
615-244-3340
All boot-scooted out from the downtown honky tonks? Look for a change of pace just a few blocks south up Broadway. Located in Nashville's old post office building, the Frist Center showcases traveling art exhibits from around the world. Every six to eight weeks new exhibits enter the gallery, but the Martin ArtQuest Gallery, a creative favorite with children, is permanent. For more information check out the website at www.fristcenter.org.
Gibson Bluegrass Showcase
161 Opry Mills Drive
Nashville, TN 37214
615-514-2200
While you're shopping at Opry Mills, make time to check out the Gibson Bluegrass Showcase. This is not your typical music store. The 30,000 square foot facility offers tours to witness the hand crafting of their world-class mandolins, banjos and dobros. If you feel the sudden urge to give one of these newly-made instruments a home, there's a showroom and retail shop on the premises. If you visit on the weekends and find yourself feeling famished, good news: There is a meat and three restaurant as well.
Gruhn Guitars
400 Broadway
Nashville, TN 37203
615-256-2033
Discover where the stars buy their guitars. Located right on Broadway, this music shop is anything but your typical tourist stop. Known throughout the country for its selection of vintage guitars, Gruhn's draws both high-end collectors and superstars. Dierks Bentley, Garth Brooks and Lyle Lovett have been known to do a little browsing and pick out a tune or two right in the store. Billy Gibbons from ZZ Top is a regular customer (he's purchased over 100 guitars from the shop) and Eric Clapton ducks in to see what's in stock whenever he's in town.

Hatch Show Print Shop
316 Broadway
Nashville, TN 37201-2006
615-256-2805
In this day and age of digital downloads and slick music videos, the Hatch Show Print Shop harkens back to a different era. This still-working downtown business has been creating its unique concert and publicity posters since 1879. Each print is a work of art in its own right and many of the current and classic samples, including ones promoting the long ago shows of Willie Nelson and Johnny Cash, are for sale for as little as $10. If you want to find the perfect souvenir to celebrate your time in Music City, USA, this is the place to find it.
Manuel's Exclusive Clothier
1922 Broadway
Nashville, TN 37203
615-321-5444
This is a one-stop clothing shop for country music stars looking for some serious bling for serious bucks. After he gained experience as a head tailor making the iconic Nudie suits, Manuel became a Nashville legend in his own right. He is responsible for making every one of Elvis' famed jumpsuits and several closets worth of suits for Dwight Yoakam and Marty Stuart. If Manuel's in the store, you can't miss him. He will be wearing his signature scarf and a smile as bright as his rhinestones.
Nash Trash Tours
Tours leave from:
The Farmers Market
900 8th Avenue North
Nashville, TN 37208
800-342-2132 or 615-226-7300
Guided tours can be a great way to get know a city but are sometimes as interesting as watching paint dry. Lo and behold the Nash Trash Tours. After boarding one of their eye-catching pink tour buses, the Jugg sisters — Brenda Kay Wilkins and Sheri Lynn Nichols — will take you on a whirlwind trip around Nashville that will have you laughing too much to even think about yawning. The 90-minute tour hits all the Music City highlights, but it's the attention to the lowlights — including the Nashville City Jail — that makes the ride such a hoot.
RCA Victor Studio B
Contact the Country Music Hall of Fame for tour information: 615-416-2001
At the corner of 17th Avenue and Roy Acuff Place is a hidden gem for music fans. Chet Atkins personally oversaw the construction of RCA Victor's Studio B and in 1958, Elvis Presley, on two weeks leave from the Army, put it to use for his final recording session of the '50s. The King recorded at Studio B on and off for the next 13 years. Since the Country Music Hall of Fame and Museum owns Studio B, contact the number above for all touring information.
Trim Classic Barber & Legendary Beauty
2315 12th Ave. S.
Nashville, TN 37204
615-269-8029
Go ahead and let your locks grow long before your trip to Nashville. We're revealing the secret spot where country celebrities go to take care of their gorgeous hair. Faith Hill, LeAnn Rimes and Julie Roberts are just a few of the famous faces to visit this upscale beauty shop in the trendy 12South neighborhood. In addition to the 1940s-era pink parlor for women, Trim also features a barber shop where men can get an old-school shave and a haircut. The prices are high but so is the quality of service — and the stylists are famous for treating all their customers like stars.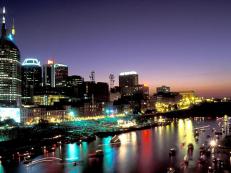 Here are our choices for the Top 10 Restaurants in Nashville, from best-kept culinary secrets and flying pigs, to Texas-style barbecue and the best burger joint in town.