Nashville Guide: Top 10 Honky Tonks and Dive Bars
They don't call it Music City for nothing. Nashville is teeming with honky tonks and juke joints... many within walking distance of the CMA Convention Center.
Nashville Convention & Visitors Corp.
(hint...it's on this list)
The Bluebird Cafe
4104 Hillsboro Road, Nashville, TN 37215, 615-383-1461
Open since 1982, the Bluebird Café is one of Nashville's true treasures. Located in a strip mall, it's also easy to miss. But don't let its non-descript appearance fool you: This haven for aspiring songwriters is steeped in country music history. Vince Gill and Kathy Mattea honed their skills on its intimate stage, and it was at an Open Mic night back in the '80s when a then-unknown artist named Garth Brooks first heard "The Dance." The Bluebird still offers original music seven nights a week. Stop by for a listen and you might be the first to hear a future country classic.
Bluegrass Inn
418 Broadway, Nashville, TN 37203-3931, 615-726-2799
This one is easy to find on Broadway. Just look for the large storefront window with a drummer's back pressed up against the glass. The Bluegrass Inn has a reputation of being a favorite spot of local Nashvillians, so you know the music is going to be top notch. Don't let the name fool you. The bands play plenty of traditional country and rockabilly tunes as well as bluegrass.
Bobby's Idle Hour Tavern
1028 16th Ave., Nashville, TN 37212, 615-726-0446
Many a tear was shed in a beer when the original Bobby's Idle Hour, one of Nashville's most celebrated watering holes and a favorite of music industry folks, had a date with a wrecking ball in 2005. But thank goodness you can't keep a good dive bar down. Owners Dianne and Bobby managed to find a new space right up the way on Music Row and within four months were back in business. You shouldn't have any trouble finding it. Just look for the statue they call the "Big Man" waving you inside.
Legend's Corner
428 Broadway, Nashville, TN 37203-3931, 615-248-6334
Only a few feet from the front door of the Nashville Convention Center, there's a good chance Legend's Corner will be your first stop on a tour of Lower Broadway's honky tonks. The atmosphere is top-notch with hundreds of classic country album covers and memorabilia adorning the walls, including five original 78 RPM Elvis Presley Sun Records and a 12-string autographed guitar once owned by Johnny Cash. Keep your eyes open for real life legends on the bar stool next to you. Vince Gill, Bill Anderson and Little Jimmy Dickens are just a few stars known to drop in from time to time.
Lonnie's Western Room
208 Printers Alley, Nashville, TN 37201, 615-251-1122
Think your singing sounds pretty good in the shower? If you're looking to test your talents in front of an audience a little more responsive than your bathroom tile, try Nashville's most notorious karaoke bar. Of course, this is Music City, so don't be surprised if the folks on Lonnie's stage have some serious singing skills or even a platinum album or two (Big & Rich once appeared after an CMA Award show.) For inspiration before your turn in the spotlight, look no further than the country music memorabilia of stars past and present covering the walls.
Robert's Western World
416 Broadway, Nashville, TN 37203-3931, 615-244-9552
A boot store by day and a honky tonk by night, Robert's Western World is pure Nashville. One can find a healthy mix of tourists and locals bellying up to the bar to enjoy a PBR, a burger and some of the world's greatest rockabilly music. The stars who have ducked in the doorway are almost too many to name (OK, we'll give you a few — Merle Haggard, Dwight Yoakam, Tom Petty, Kid Rock and Rascal Flatts). Come in wearing your dancing shoes but do not be surprised to walk home in a new pair of boots.
The Stage
412 Broadway, Nashville, TN 37203-3931, 615-726-0504
The Stage is one of the newer faces on Lower Broadway's legendary live music scene, but it is fast becoming a fan favorite. Home to the Roy Acuff Museum in the '60s and '70s, this hangar-like honky tonk now provides plenty of space to enjoy a line-up that features Nashville's hottest up-and-coming country stars. For a bird's eye of the action, look for prime real estate up in the balcony and as you're coming or going, be sure to look up. Above the front door is a gorgeous painting of the Highwaymen the owner bought from Waylon Jennings himself.
Station Inn
402 12th Ave S., Nashville, TN 37203, 615-255-3307
Bluegrass fans, welcome to mecca. Open for three decades, this is a venue with a vibe as down home as the songs played on its stage. Folks from as far away as Tokyo have made the pilgrimage to the Station Inn to soak in the music made famous by Bill Monroe. Squeeze into a spot on one of the old church pews and enjoy a lineup of the finest pickers on the planet. And keep your eyes peeled for famous faces. Stars like Ricky Skaggs, Dierks Bentley and Alison Krauss have been known to pop in for an impromptu performance.
Tootsie's Orchid Lounge
422 Broadway, Nashville, TN 37203, 615-726-0463
As other music venues have come and gone, this historic honky tonk has remained... and it has decades worth of publicity shots tacked to the wall to prove it. The list of regular customers and performers from the early days is a who's who of country music legends — Kris Kristofferson, Willie Nelson, Roger Miller, Waylon Jennings, Patsy Cline — and more recently, it helped launch Terri Clark into stardom. Even today the magic of the Tootsie's stages still brings out the very best in the performers who take its stage. Be sure to head upstairs for a look at the back door where the Opry stars of old entered after performing at the Ryman.
Wildhorse Saloon
120 2nd Ave. N., Nashville, TN, 37201, 615-902-8200
Located on busy Second Avenue in downtown Nashville, the Wildhorse Saloon is a honky tonk right at home in the 21st century. Nothing dark and dingy about this place — the lighting and sound systems are first-rate and with three levels, there is this plenty of room to hoedown. And all the line dancers are going to love the sprawling dance floor. And if you get hungry boot-scootin', you won't have to look far for food. The Wildhorse has a full menu including award-winning barbecue.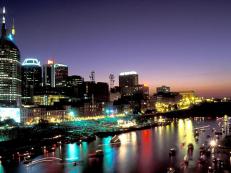 Here are our choices for the Top 10 Restaurants in Nashville, from best-kept culinary secrets and flying pigs, to Texas-style barbecue and the best burger joint in town.