Tips and Tricks For Cooking on a Camping Trip
They say that food is love, and just because you're sleeping under the stars doesn't mean you can't eat well. Here are some of the things you'll need to be master chef without even being in the kitchen.
The cookware you use really comes down to if you are backpacking or car camping. If you'll have easy access to your car you won't need to worry about weight at all, go with the tried and true cast iron. Outdoorsmen have been using cast iron to cook up hearty meals over the campfire for centuries and there is a reason for that; it's built to last. There are three essential pieces of cast iron that you can buy that will allow you to cook almost anything you can think of. A pan, for things like eggs and meats. A Dutch oven for stews, soups and baked goods such as cornbread and biscuits. And a pie iron for simple, hot and cheesy grilled sandwiches.
If you'll be in the backcountry and need to carry everything in your backpack a small aluminum or titanium pot or pan will do since your food options will be limited to things you can easily transport anyways. Lightweight pans also double as plates cutting down on what you need to fill your pack with.
Aluminum foil is also a necessity to pack for your camp kitchen that doesn't take up much room. Foil comes in handy when cooking root vegetables as you can wrap something like a potato and throw it right into the coals of a campfire, you can also wrap fish and not have to fear a mouthful of ash when it comes time to eat.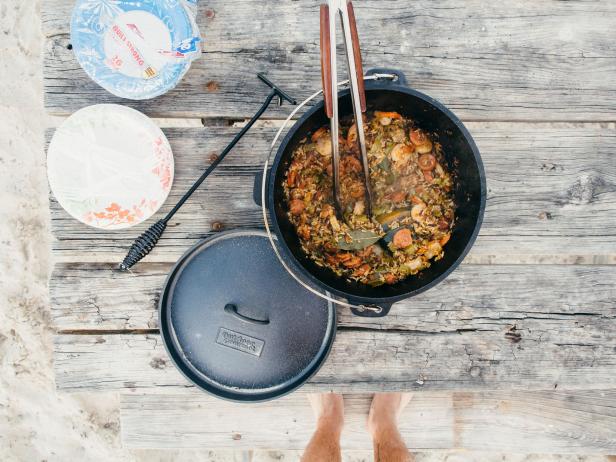 Cast-Iron Dutch Oven Jambalaya Dish
This one-pot jambalaya dish cooked in a cast iron Dutch oven is very forgiving, and when cooking for a big group at your campsite, the more food the better.
Nothing beats a classic campfire when it comes to cooking outdoors. No you won't have the flame control that you do when using a stove, but the option to cook over an open flame or wait until you have coals is almost as good. You may run into issues if you live in a wet climate, as damp air can make it much harder to start a fire. If you do plan on using wood to cook over make sure to bring your own, most parks have strict rules against collecting firewood.
Stoves offer another way to cook your food while out in the wild. They are reliable, can be used in wet conditions, and can be as small as a baseball. I personally have two different stoves that I use depending on what kind of camping I'm doing. One is the classic two-burner propane stove that folds up like a suitcase. The other is a single burner stove that uses small canisters and can easily be used when I don't have the option to access my vehicle.
The food itself will again depend on if you are car camping or backpacking. If you are able to be close to your vehicle the sky's the limit when it comes to what you can eat while outdoors. I've cooked everything from jambalaya to pizza while camping; lacking a full kitchen should not hold you back from eating well. Of course you'll need a cooler to keep your perishables fresh if you go this route, one of my favorite hacks is using frozen water bottles instead of ice as you can easily grab one and have cold water before you head out on a hike. If you are backpacking dehydrated food will be the way to go as it is light, doesn't need to be kept cold and can be cooked with just water. Pasta is always an easy option, or you can check out a specialty outdoor retailer and pick up fancier freeze dried meals with options such as chicken teriyaki and beef stroganoff. Snacks such as trail mix and beef jerky are always an easily packable, high calorie option to get you through a day of hiking.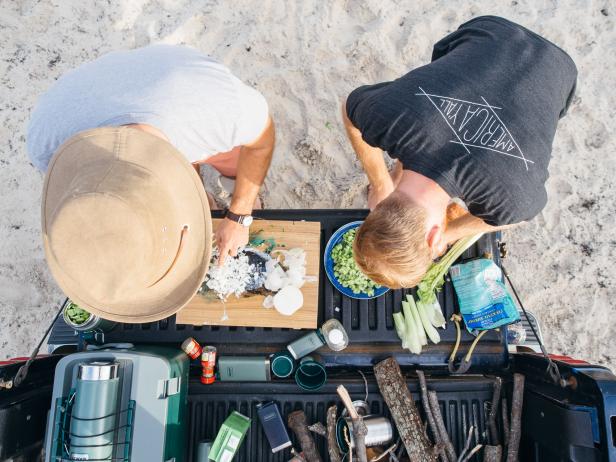 Cast-Iron Dutch Oven Jambalaya Dish
This one-pot jambalaya dish cooked in a cast iron Dutch oven is very forgiving, and when cooking for a big group at your campsite, the more food the better.
Jeremy Pawlowski from American Y'All shares his favorite dishes to make when cooking in the great outdoors.