Why We Love the Great Smoky Mountains
Great American Country editors and producers share why they love America's most-visited national park.

We may be a bit biased since it's only an hour away from the Great American Country headquarters in Knoxville, Tenn., but the Great Smoky Mountains have it all. And neighboring towns Gatlinburg and Pigeon Forge have so much to offer, from family fun to hiking to incredible views.
The damage from this year's wildfires have taken a toll on the national park and the Gatlinburg community. But this resort town is still thriving and even though we're missing several attractions and cabins and homes, we still love our mountains. Here's what our editors, directors and video producers had to say about why they vacation in the Smokies.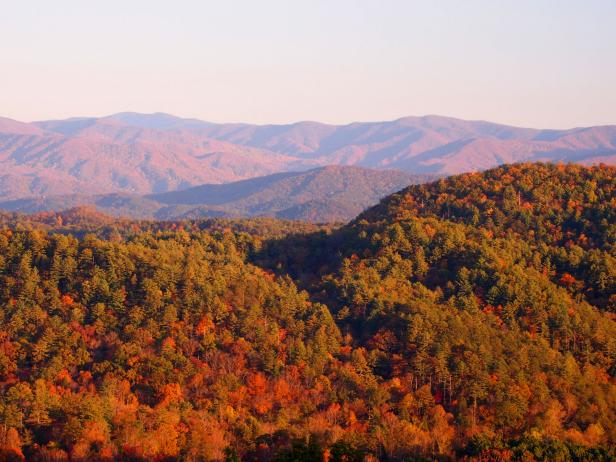 Great Smoky Mountains National Park
Explore Southern Appalachian history and culture at Great Smoky Mountains National Park. Start your morning on the porch reveling in the thick morning fog from which the region earned its name. Later, bicycle through Cades Cove, or try your luck angling for rainbow trout on 700 miles of fishable streams. With 800 miles of trails, and over 80-historic structures including log cabin schoolhouses and gristmills, a journey here is a step back to a earlier era, where nature tended to steal the show.
My family and I love driving through Cades Cove when the leaves change. The serene view of the mountains in Cades Cove is breathtaking, but add in all the vibrant colors of autumn and peaceful, frolicking animals all around, and you get to experience nature at its finest, right here in East Tennessee. -Brooks
The Smokies are a place of inspiration and replenishment for the soul. They are where I fell in love with my wife and provided the inspiration for our daughter's name. -Daniel
On our first date my husband and I hiked the Alum Cave trail. Ten months later he proposed in that same place. We hike it every year on or around our anniversary or when we are going through something difficult in life. -Heidi
I love the Smokies for the friendships that are born, from every magnificent trail and breathtaking vista. -Scott
There's so much to love! The log footbridges, Newfoundland Gap, Clingman's Dome, the staircase on the Alum Cave Bluff trail, the houses at Elkmont, Spruce Flat Falls, Rainbow Falls, tubing at the Y.. -Jackie
Elkmont campground is rugged enough to feel like you really are getting away from it all, but still has toilets so you aren't roughing it too much! The stream, old resort homes and clubhouse only add to the leisurely ambiance. -Karli
I love the Smokies as a sanctuary, a spa for the soul. There might be more smiles per person in the Smokies than at Disney! -Peter
I love hiking on a trail a few miles into the Smokies and meeting silence, because I know these are the moments I will hear the most. -Colby