Get to know Betty White of Betty White's Smartest Animals in America.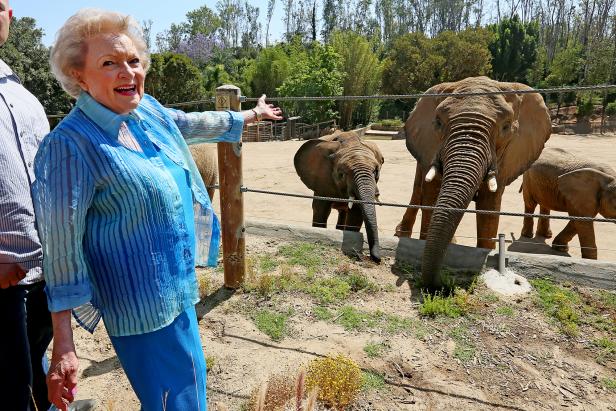 Betty White and Msholo, an African Bull Elephant
Actress and show host Betty White interacts with African Elephants during filming of GAC's series Betty White's Smartest Animals in America at the San Diego Safari Park on Monday, June 9, 2014 in Escondido, California, USA.
From:
Betty White's Smartest Animals in America
Sandy Huffaker/Getty Images, 2014, Scripps Networks Interactive, Inc. All Rights Reserved.
Betty White is a comedian, actress, author and producer with a Guinness Book of World Records award for having the longest television career for a female entertainer. The 93-year-old television star has been active in her career for 76 years, and she's not slowing down. To celebrate her 93rd birthday, Betty hosted a special on Great American Country called Betty White's Smartest Animals in America where she was able to fulfill her lifetime wish of meeting some of the most intelligent animals in the world.
After moving to California at a young age, Betty began her career in radio and hosted her own show, The Betty White Show. Soon after, Betty followed her passion for performing and started her television career. In 1951, after starring in a variety of series, she won her first Emmy Award for most outstanding female personality. Betty's experience in television sparked her interest in production, and she co-founded Bandy Productions. Betty's greatest fame occurred in the 60s and 70s when she hosted numerous talk shows and game shows, and hosted the annual Tournament of Roses Parade on NBC.
Currently, Betty serves as a guest host on a variety of shows. She is an advocate for animal health and works with several animal organizations.