Beds and Big Sky: Junk Gypsy Wander Inn
Even gypsies need a place to rest their heads. Thankfully, the Junk Gypsy Wander Inn in Round Top, Texas completes Gypsyville, the mega-brainchild of sisters Amie and Jolie Sikes.
If you are looking to stay in a cookie-cutter hotel, where beige bedding meets in-room pay-per-view, then the Junk Gypsy Wander Inn is not the lodging for you. Following a "rustic Americana" theme, the lodging is decorated with bright colors and textiles that play off tons of local cedar wood.

"We're real close to the Chisholm Trail and we wanted the inn to feel like that Big Sky Country. Like the movie Giant, we wanted it to have the spirit of the Old West," explains Amie Sikes. "We wanted wanderers to have a place to meet and lay their heads for the night. We wanted to give the gypsy a magical place."

Where Gypsies Lay Their Heads
So, when a "For Sale" sign popped up on two buildings adjacent to their store, Junk Gypsy, they put in an offer on the property and bought it the very next day. The space had "good bones" the Gypsies say. All it needed was their charmed styling touch.
The inn features eight suites, each room boasting a spa tub, a balcony overlooking a scenic Texas pasture and a fireplace. One thing not included, however, is a restaurant. "This ain't your typical B and B. There's no breakfast and it ain't your granny's place. It's the B, without the other B," says Amie.
Throughout the inn, you'll find items you can purchase in Junk Gypsy and on the online store (gypsyville.com), including Junk Gypsy-designed pillows and bed linens, as well as coffee table books. Many items, although not for sale, were projects the duo completed during an episode of their show. In the inn's lobby, you'll see Amie's campfire artwork made from reclaimed tin and Western belts, and Jolie's side tables, made out of an old cedar tree she found on the property.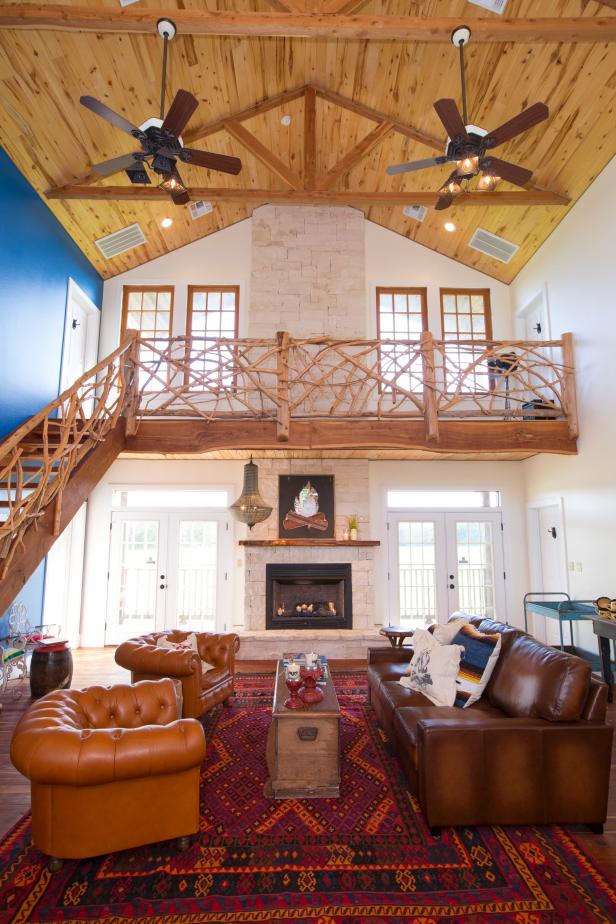 junk-gypsies_wander-inn3_v
The Junk Gypsies brought in color by painting the staircase wall bright blue. Comfortable leather furniture with festive pillows welcomes guests to sit and relax. A Native American style rug brings warmth and an atmosphere of the American West. A campfire collage made from scrap metal and Western belts adds a playful focal point above the fireplace, as seen on GAC's Junk Gypsies. (After #1)
Sarah Wilson / Getty Images, GAC/ Scripps Networks, LLC. All Rights Reserved.
"We've never done anything the way you're supposed to do it and in spite of that, it works," Amie says. And the Junk Gypsy Wander Inn is yet another thing that "works" thanks to this family who has the Midas touch when it comes to taking junk and making it a treasure.